Negaunee Miners Hold Off Late Braves Rally 42-28

Click the thumbnails to see photos and video highlights. Click the AUDIO buttons to hear post-game comments from Gladstone Coach Jeff Hansen, and player spotlight interviews with Johnny Hansen and Brett Boudreau.

NEGAUNEE---The Gladstone Braves got their chance at revenge against the Negaunee Miners as the state football playoffs opened Friday night at Miner Stadium.

But unlike the regular season game that ended in a one-point Negaunee win that had plenty of controversy, the Miners left little doubt who the better team was.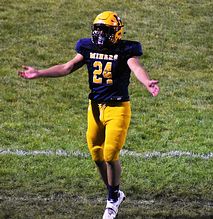 The Miners scored in all three phases of the game, jumping to a 28-0 lead and holding off a late Gladstone rally to win, 42-28. Negaunee will host Calumet in the second round of the playoffs next Friday, while the Braves season came to an end.

After the game was over, Gladstone Head Coach Jeff Hansen announced that he was retiring after eight years as the head coach of the Braves program.

Gladstone's sophomore quarterback, Nate Young, who has filled in well after senior QB Cam Kelly was injured in the Escanaba game, had a rough first half. He threw two interceptions, dropped a couple of snaps, and fumbled twice. The Braves had the ball in Negaunee territory three times in teh first quarter but could not get any first downs.

In fact, subtracting yardage lost on sacks and snaps on the ground, Gladstone had just 25 yards of total offense in the first half. Negaunee scored on touchdown runs by Nico Lukkarinen and Brady Roose to take a 14-0 lead at halftime.

It didn't get any better in the third quarter, as Phillip Nelson returned a punt 53 yards for a touchdown, and after Brenton Belanger intercepted a Young pass, Roose ran in the first offensive playfrom 55 yards out to give Negaunee a 28-0 lead.

The Braves finally got on the board as Young threw one up to fellow sophomore Elliot Vitito. Vitito made a sweet one-handed grab and took it to the house for an 75-yard touchdown. The two-point play failed, so Gladstone still trailed, 28-6.


Gladstone's defense forced a three-and-out, but after two Braves first downs, Young was intercepted by Nelson. Nelson took it 65 yards along the sideline near his bench to the end zone for the score. Nelsom then kicked his fifth extra point of the game, making it 35-6.

That happened on the final play of the third quarter, The Braves, however, didn't give up. Young hooked up with senior Johnny Hansen on a 71-yard touchdown pass, and Cole Potier's two point run brought Gladstone to within 35-14 with 11:02 to play.

Gladstone's defense forced another three-and-out, and the Braves struck again. Cole Potier broke off a 38-yard run into Negaunee territory, and then after a 3rd-and-9 conversion pass to Eli Berthaume, a little trickery for the Braves.

Big Hunter Potier, perhaps the best defensive linemen in ther Upper Peninsula who has 13 sacks this season, lined up as a tight end. Young found him in the end zone and Potier reached up and made the catch. Cole Potier's two-point run made it 35-22 with 7:11 to play.

Another Gladstone sophomore, Vinny Howes, sacked Negaunee quarterback Gerald Johnson, and two plays later, the Miners had to punt again. The Braves went to the air again, and Youn found Hansen behind the defense for a 65-yard touchdown with 5:01 to play.

Gladstone missed the two-point conversion, but was within 35-28 with plenty of time on the clock, and all three time outs remaining.


But here's where Nelson changed the game yet again. On the kickoff, he returned it all the way for a touchdown. Gladstone was fortunate that there was a holding penalty that called it back, but Negaunee had the ball at the Gladstone 44.

They got two first downs on the ground (with the help of a Braves off-side penalty) and then after a timeout, Negaunee put it away on a 21-yard touchdown pass from Johnson to a very wide open Belanger in the end zone with 1:45 left on the clock.

Gladstone's last gasp was wiped out on another Belanger interception, and the Braves' season ended with a 42-28 loss.

Young ended up completing 12 of 25 passes for 300 yards and four touchdowns, but also had three interceptions and two fumbles. Cole Potier had 87 yards rushing on 15 carries.

Gladstone outgained Negaunee, 366-231,. but the Miners made big plays on defense and special teams the spelled the difference.