PLAYOFF PUSH CONTINUES: Braves Beat Gaylord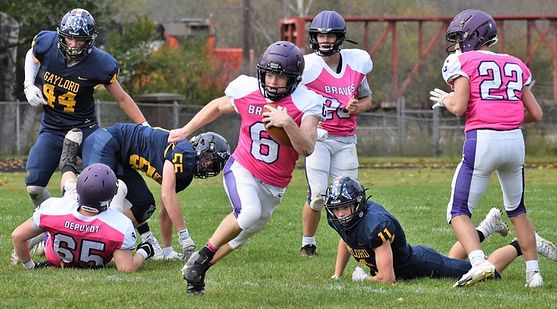 Click the thumbnails to see photos and videos taken by Nate Bellville, as well as pictures and videos from the JV game which Gaylord won 36-28. Also click the AUDIO buttons to hear player spotlight interviews with Ethan Jensen and Cydnie Carignan, and the replay of both Braves touchdowns.

GLADSTONE---The Gladstone High School football team bolstered its playoff position on Saturday by shutting out the Gaylord Blue Devils, 14-0, at the Marble Athletic Field.

The Braves, on the edge of the 32-team playoff field in Division Six, received 50 playoff points by beating the Division Three Blue Devils. That solidified the team's playoff position, with the Michigan High School Athletic Association basing playoff spots solely on strength of schedule.


"We've put ourselves in a great position to achieve our goal," Braves Coach Jeff Hansen said. "We're a really good football team. I think we're starting to play the kind of football that this group is capable of playing, and at the exact right time. I'm very excited for the next week."

The Gladstone defense sacked two Gaylord quarterbacks five times and held the Blue Devils to ust 58 yards of total offense. The Blue Devils had just five first downs in the game.

Gaylord (2-6) hung in there with solid defense of their own, but Gladstone scored on a pair of Nate Young-to-Eli Berthaume touchdown passes. Young also threw a two-point conversion pass to John Hansen in the third quarter on the Braves' second touchdown.

"When we got the two possession lead, that's when I got comfortable." Coach Hansen said. "They're not a quick-strike offense by any means, so if we could get them behind by a couple of posessions, we'd thought we'd be OK. We'd like to score more points, but I told the kids, sometimes you've got to win a game by grinding it out. And when your defense pitches a shutout, well, you're going to win the game."

Young completed 11-of-14 passes for 136 yards. Seven of those passes were to Berthaume for 110 yards. Young also carried the ball 16 times for a net of 40 yards.


"You saw a lot of his maturity and maturation as a player come through in this game," Hansen said. "He understood the situation and knew that his job wasn't going after chunk plays, but was to take what the defense gave us. It would be easy to be greedy and go after those chunk plays that aren't there. He saw how our defense was playing and understood that we just needed to maintain field poisition and work the clock."

Berthaume says he had a blast being the featured receiver in the Braves offense.

"I really liked playing a physical, hard-fought game," Berthaume said. "We wanted a win bad after last week (bitter loss in Negaunee) and we knew we need to win these two games to make the playoffs. We had to adjust to their defense because they ran a 'cover-three'."

Cole Potier, who broke his wrist last week in Negaunee, played on all three sides of the ball Saturday with a large white "club cast" on his right hand. He carried the ball 16 times for 40 yards, and also split the kicking duties with Elliot Vitito.

And it was another dominating game for Hunter Potier on the defensive line. The Blue Devils tried multiple switches to try to keep their runners away from him, but it didn't work.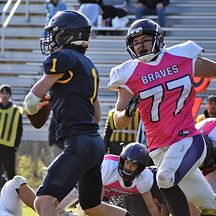 "It's been like that week-in, week out," Hansen said. "They double team, triple team him, running away from him, doing anything they can. But we move him inside, we move him outside. Just to counter the offenses' attempts to get him out of the game. But Hunter always makes his presence felt,. for sure, and he did again today."

The game was also special at the end when senior quarterback Cam Kelly, who broke his collarbone in the Braves' win at Escanaba a month ago, suited up. He went out there to take a knee twice in the victory formation as the clock ticked under a minute.

"I was extremely surprised and extremely glad to see him come out there on the field," Berthaume said. "It's awesome that he's able to play some snaps again."

The win moved the Braves to 4-4 on the season, heading into the season finale against Division Four Sault Ste. Marie (5-3) next Friday night in Gladstone.

The Braves won special pink jerseys in honor of Breast Cancer Awareness, and auctioned them off after the game to raise money for the Delta County Cancer Alliance.

In the junior varsity game Saturday, Gaylord jumped to a 20-0 lead before the Braves scored four straight touchdowns to take the lead, with the last touchdown coming on an 80-yard pass from Gavin Frossard to Luke Bracket. The Braves led,, 28-20, with 9:42 left to play.

But the Blue Devils won the game with two late touchdowns, with the winner by Russell Hush from 14 yards out. Gladstone drove inside the Gaylord 20 but on the final play of the game, Jace Teague got the clinching interception for the Blue Devils.