ROAD WARRIORS: Braves Smack Elk Rapids, 34-0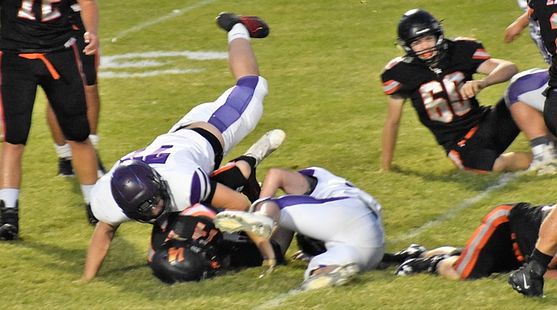 Click the thumbnails to see photos and videos, and to hear post-game comments from Coach Jeff Hansen, and Braves players Gavin Depuydt and Andrew Sargent. Also hear player spotlight interviews with Mitch and Trent Cartwright, and Hunter and Austin Solis.

ELK RAPIDS---The Gladstone Braves football team improved to 3-1 in road games Friday night with a 34-0 win over the Elk Rapids Elks in Lower Michigan. The Braves defense forced eight sacks, four-and-a-half of them by Hunter Potier, and they intercepted three passes.

On offense, the Braves shook off a sluggish start to score on three Nate Young touchdown runs, and brothers Hunter and Austin S0lis also contributed touchdown runs.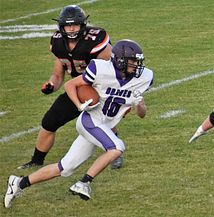 The Braves improved to 3-3 on the season, and are still alive for a state playoff spot.

"We've set the table for us to make our playoff push," Gladstone Coach Jeff Hansen said. "We're sitting at 3-3, which is a pretty darn good place to be sitting, considering the pathway that we've taken (tough schedule) to get here. Considering the injuries that we've had to withstand, and a lot of the adversity that we faced. I'm ecstatic to be sitting where we are now at 3-3. We've got a good football team, and the vibe on the team is outstanding."

The vibe wasn't outstanding early, as the Braves hurt themselves against the young Elks team with 30 yards of holding penalties and a negative-20 on a bad snap: all on the same drive.

But the Braves defense was dominant against the Elks, which cancelled its JV season and put together whatever kids it could for Coach Nate Butte, who took over just before pre-season began after the previous coach resigned. But Friday night was Elk Rapids' final home game of the season, and so they celebrated their seven seniors as well as cheerleaders and band.

The Braves finally got the offense going after a very short punt gave them the ball at the Elk Rapids 24 yard-line in the second quarter. Hunter Solis, filling in for the injured Cole Potier, scored on a ten-yard touchdown run to give Gladstone a 6-0 lead.

Late in the second quarter, the Elks punted on 4th and 2 at the Gladstone 45, and buried the Braves deep at the 13 yard line with only 1:08 left in the half.


The Braves got a huge chunk play, though, as sophomore quarterback Nate Young, filling in for injured quarterback Cam Kelly, heaved a long pass to a wide-open Elliot Vitito, who was called up from the junior varsity team. And 69 yards later, the Braves were at the 5-yard-line.

Young raced to the right pilon for a touchdown with nine seconds left in the half, and then on the two-point play, the snap was on the ground and Young started to scramble. Then he noticed Caden Downey completely unguarded in the end zone, and that pass made it 14-0.

"I knew it was probably going to take us a few drives to get in sync, kind of find our legs, and do what we need to do," Hansen said. "You can't forget that you have a tenth grader who's playing his second game as a (varsity) quarterback, and so there's a lot of things that he's figuring out when it comes to seeing the field. There was a lot of growth coming through in the second half."

"We started out a little sluggish because they have a couple of studs on their line, but slowly as we went on we picked 'er up," Braves lineman Gavin Depuydt said. "I feel like I started a little slow and missed a few blocks. And I got called for holding a couple times. But I picked 'er up.The whole line improved thoughout the game. We came down for a business trip and that's what we did. We didn't come this far (five hours) for nothing."

In the second half, the defense kept dominating as Braden Sundquist, Sasha Olsen, and Andrew Sargent all intercepted passes.

"I'm very happy," Sargent said. "I had no clue that this was going to happen. I don't see the field much, but when I do, I try to make the best of it. I caught it (the interception) and I kind of froze for a second. I was like, no way I just did that!"


Gladstone put the game away when they took the opening kickoff and drove 65 yards in six plays, capped off by another short touchdown run by Young. Then early in the fourth quarter, after Olsen's interception, the Braves had 14 yards to go and Young took all 14 yards for his third touchdown of the game. Young also ran in the two-point play to make it 28-0.

The icing on the cake came in the final three minutes of the game when another JV call-up, Austin Solis, picked off a snap off ofthe ground and wiggled his way up-field for a 61-yard touchdown that capped the scoring at 34-0.

The Braves had 398 yards of total offense, 273 on the ground. Young ran for 149 yards on 20 carries, amd Hunter Solis had 76 yards on nine carries. Young also completed 4-of-9 passes for 125 yards.

Elk Rapids (1-5) couldn't generate much offense, accumluating just 85 yards all nighr. Senior quarterback Max Irelan was hassled all night, and was sacked eight times for 51 yards of losses. He completed 7-of-16 passes for 62 yards and three interceptions.

Sophomore Ethan Comai ran hard, getting 25 yards on seven carries.

But it was a huge night for Potier, who was a dominating force on defense.

"Potier is a man out there," Hansen said. "There's times out there when he looks like a man among boys. When he's got his engine revving, he's really, really a force. They kind of left their tackle out there on an island to try to deal with him on his own, and I was like, well, if that's they way you want to roll with it, then power to you. But I think that Hunter Potier is going to win a majority of those (one-on-one) battles."

The Braves travel to Negaunee next Friday, before closing the regular season with home games against Gaylord and Sault Ste. Marie.