Big Fourth Quarter Leads Houghton Past Broncos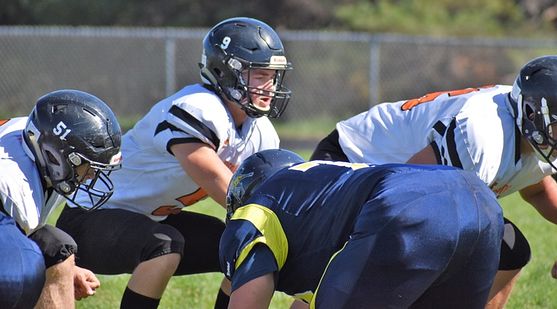 Click the thumbnails to see photos and videos, and interviews with Reed Heathman and Kade Farrell.

BARK RIVER---The Houghton Gremlins scored two touchdowns in the fourth quarter to rally past the Bark River-Harris Broncos, 21-20, Saturday afternoon in Harris. The Houghton defense intercepted fourth passes, including a clutch INT with 5:52 left in the game that set up the final offensive push, and another with a minute to play to stop a potential BR-H winner.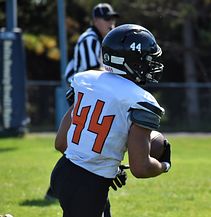 "We're feeling awesome after that big win," Gremlins senior Kade Farrell said. "The boys are pumped right now. We wanted this game. We knew we could beat them and we were ready to come out there and just be flying. 110 percent. Everybody. We wanted to win this game."

BR-H grabbed the early 6-0 lead on a 31-yard touchdown run by Vincent Martin. But the Gremlins countered with a four-yard touchdown run by Kaiden Zapolnik and an extra point kick by Raymond Shaw to take a 7-6 lead.

The Broncos dominated the second quarter with a 70-yard drive capped off by a Trevor Lippens touchdown run. But the Broncos could not get the two-point play and settled for a 12-7 lead.

The Gremlins drove into the red zone, but on fourth and 4, quarterback Camden Markham threw an interception to Bronco sophomore Ben Shiverski. The Houghton defense returned the favor at the other end of the field with Reed Heathman picking off a pass that was tipped in his direction.

The BR-H offense again chewed up more than six minutes in the third quarter with a long drive that Lippens capped with a touchdown run. And the Broncos got the two-point conversion to make it 20-7.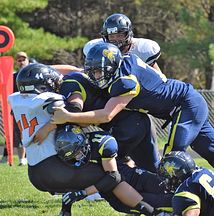 They had their chances to put the game away. The Broncos had the ball early in the fourth quarter and went for it on fourth down, but the Gremlin defense stuffed the play and got the ball back for the offense.

Markham hooked up with Farrell for a 28 yard touchdown pass, and after Shaw made the PAT kick, it was a 20-14 game.

BR-H had another chance to salt the game away, but quarterback Ethan Ives threw his third interception of the game with 5:52 on the clock.

Houghton faced a do-or-die 4th and 7 play and Markham made good on a 16-yard touchdown pass to Gaborik Carlson. Shaw's clutch PAT kick with 2:36 left put Houghton in front.

The Broncos had three time outs left and 60 yards to go for a winning score, but the Houghton defense stepped up again with their fourth interception of the game, this time by Blake Willey with 1:05 left.

"Our whole O-Line started picking it up, our defense picked it up tremendously," Farrell said. "Our quarterback Cam did an awesome job throwing those balls right where Gaborik and I could catch them. All around team play was awesome in that fourth quarter to help us win.

It wasn't without excitement though. After that Willey interception, the Gremlins ran three plays, spending the BR-H final two timeouts. On fourth down with nine seconds to play, Heathman went into punt formation and a near-disaster followed as the snap went over his head toward the Houghton end zone.


Heathman raced back after it, got to the ball, and started running for his life. The wild play ended as Heathman was able to get the final seconds off the board. And a big sigh of relief.

"That one gave me a heart attack," Heathman said. "We drew it up…well, we did not draw it up, but I knew our center probably had a little adrenaline in him when he snapped it over my head. In the huddle, we were like, alright, if it's a bad snap or a bobble, or whatever, just run it out.

That's what we did. I picked it up and I ran! I'm running backwards and I pick it up and I was like, all right, just stay up for nine seconds. Hang on to the ball and stay inbounds!"

Houghton won its second straight nailbiter, after holding off Iron Mountain last Saturday. The Gremlins are now 3-1. The Broncos lost for the first time this season after opening with three straight wins.

"The first half was definitely Bark River's game," Heathman said. "We came out in the second half and we had a halftime speech by the captains. We fired the boys up, came out, and the fourth quarter was amazing. Every play, everyone was giving it 110 percent. We knew we were going to win the game."

"This was great for us after a close one last week," Farrell said. "This one, to come back, after we almost had a come back against us last week. Coming back and winning this one, it really helps with our team chemistry, knowing that we can win these games."

The Gremlins have the Copper Bowl game against Hancock next week. The Broncos will battle Iron Mountain next Friday night.