Click the thumbnails to see photos and videos taken by Nate Bellville. Also listen to post-game comments from Eli Berthaume and Coach Jeff Hansen, and our player spotlight interview with Cam Kelly. Also watch the halftime fireworks.

ESCANABA--
-The last time the Gladstone Braves beat the Escanaba Eskymos in varsity football, Barack Obama was the president, in the middle of his first term in the White House.
It was October of 2010, and the Braves win that night actually wrapped up a stretch of three wins in four years for Gladstone over their rivals.
But it's been a long dry spell ever since, with ten straight Eskymo wins in the series, with most of them by lopsided scores.
Friday night in Escanaba, the Braves made up for all of that by dominating the Eskymos, 30-15, in a game that was not nearly as close as that score would indicate. The Eskymos had six turnovers in the game, leading to nearly all of Gladstone's points.
"We got the game ball, and we'll have the team sign it and put this in our trophy case," Gladstone Coach Jeff Hansen said after his first-ever win over Escanaba. "This is something that doesn't come about very often. There's a few times in your life when you get to have something special that nobody can ever take away from you. This group immortalized themselves by the way they played the game tonight with all kinds of adversity, again, in the form of injuries. And they just never let up. The effort, the desire, and the hunger was there. I couldn't be prouder of my kids."
The Gladstone defense was stifling, forcing six Escanaba turnovers and holding the Eskymo offense to less than 100 yards of total offense until a late fourth quarter drive gave the Eskymos their final touchdown.
And on offense, the Braves, led by senior quarterback Cam Kelly, was equally dominant, using a mixture of running plays with long passing plays that had Escanaba completely off-balance throughout the entire first half.
But the fun was tempered late in the first half when Kelly, trying to get the final yard on a two-point conversion run, was hit by Escanaba's Terrell Rowley. Kelly broke his collarbone and is out for the season.
Before that sad end to his senior year, Kelly was in complete control on offense, engineering three straight touchdown drives after the mistake-prone Escanaba offense turned the ball over twice and had two three-and-outs on their first four offensive series.
Kelly hooked up with a wide-open Johnny Hansen for a 32-yard touchdown on 2nd and 12 to open the scoring, then passed to Nick Martin for the two point conversion. Later in the quarter, Kelly again threw to Hansen, this time for 35 yards to the one yard line. Cole Potier pounded it in on the next play, and Kelly again passed to Martin for the two-point conversion, giving Gladstone a 16-0 lead.
Escanaba put together a drive behind tough running from Karson Krutina and short passes from quarterback Casey Bray. But Hunter Potier went into beast mode and sacked Bray, forcing the fumble that led to a 67-yard drive that ended on a 35-yard touchdown pass from Kelly to Nate Young that made it a 22-0 game.
But on that two-point play, Kelly's season came to an end when he was hit awkwardly on that missed conversion.
The Eskymos moved into Braves territory but Mason Kinonen sacked Bray, forcing a punt. The Braves could not move the ball with Young now at quarterback, but after Bray completed a 22-yard pass to Scott Hiller, the Eskymos turned the ball over again when Hansen intercepted a pass.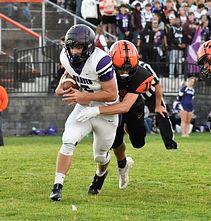 Gladstone took advantage on an impromptu trick play. Young tossed it to Eli Berthaume, who drew the defenders and tossed a touchdown pass to a wide-open Hansen. Then Young had an impressive two-point pass to Hansen when it appeared he would try to run the ball.
That play happened with four seconds left in the half, giving Gladstone an improbable 30-0 lead at halfime.
"We called the time out and I looked at Eli, and ased him: 'can you throw a pass?" Hansen said. "Without even hestitating, he said 'yeah'. So we throw the double pass where he hits John and the defense sucked up just like we thought they would, and he comes back and said 'I guess I didn't know I could throw a pass like that. So I was like 'what are you saying? You told me you could throw a pass! But we really executed that play well. We haven't practiced it all year. Just kind of threw it out there during that time out."
"I came into the game and earlier, my ankle was hurting and I didn't know if I was gonna be able to play today," Berthaume said. "Then my friend, when I was coaching powder puff earlier, he got me this ointment. I put it on my ankle, and it felt amazing. Then I came into the game feeling confident and that play was crazy. It was made up on the spot. I had no idea I was gonna be throwing a touchdown tonight. It feels amazing to bear Esky."
The Braves were shaky in the second half, taking a knee on the opening kickoff deep in their own territory and then fumbling on their first offensive possession at the 6 yard-line. Bray scored on a quarterback sneak three plays later, and Krutina's PAT kick made it 30-7.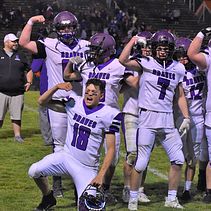 The Braves were three and out and the Eskymos had great field position after a couple of Gladstone penalties and a 20-yard run by Ben Johnson. But from the Gladstone 19 yard line, Bray fumbled, and Cole Potier recovered.
The Gladstone offense got a couple of first downs but turned it over on downs. The Eskymos, however, couldn't take advantage because center Matt Zimmerman's snap went through Bray's legs and back 17 yards before Gladstone recovered it.
Once again, the Gladstone offense could do nothing, but two more bad snaps put the Eskymos in a 4th and long and they had to punt.
The Braves chewed up some clock but Young fumbled at the Escanaba 40 yard-line. The Eskymos took advantage with a 60-yard drive capped off by a Krutina five-yard run. Krutina also scored the two-point run, but with 2:36 left on the clock, Escanaba needed an on-side kick.
They didn't get it. Gladstone got one first down and melted the clock, setting of a wild celebration that hasn't been seen in a decade.
Both the Eskymos and Braves will have their Homecoming games next Friday.
Escanaba (1-3) will host Kingsford (3-1) while the Braves (2-2) will host Marquette (3-1).