Wild Comeback Falls One Point Short For Gladstone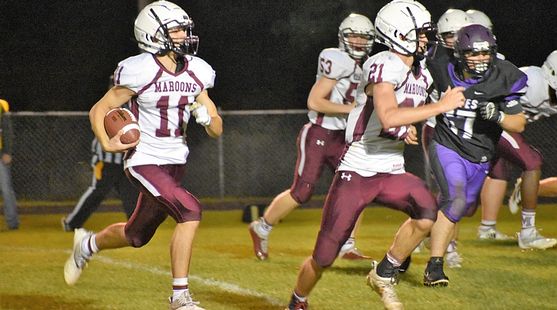 Click the thumbanils to see photos and videos taken by Nate Bellville. Also listen to post-game comments from John Hansen, Vinny Howes, and Coach Jeff Hansen. And listen to radio calls from the game, and player spotlight interviews with Nick Martin and Nate Young.

GLADSTONE---The Gladstone High School football team scored 22 unanswered points in the fourth quarter but fell one point short, losing to the Menominee Maroons, 35-34, Friday night in Gladstone.

Aedan Laurin's interception with one minute to play sealed the win for Menominee after the Braves scored three touchdowns, blocked a punt, and got an onside kick in the fourth quarter.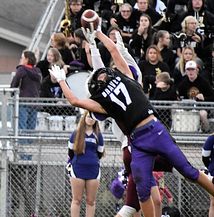 The game couldn't have started worse for Gladstone quarterback Cam Kelly. He fumbled the ball on each of the first two posessions, leading to Menominee's Trevor Theuerkauf scoring on a 19-yard touchdown run and Aidan Bellisle scoring from ten yards out.

Kelly then shanked a punt to give Menominee the ball at midfield, but Brody Waara fumbled at the Braves 15 yard-line. The nightmare continued for Kelly, however, as he threw an interception to Laurin on a screen pass at the ten yard line. Belliisle scored on one play, from six yards out, and Cooper Conway nailed his third straight extra point kick to make it a 21-0 Marooms lead.

Kelly bounced back. He led his team on a 53-yard drive, which he finished off with six straight quarterback keepers, converting a fourth down play and then scoring from five yards out.

It was just the second touchdown of the season for someone other than Cole Potier, who had to sit the game because he was contact traced...that is, a "close contact" to someone who tested positive for COVID-19.

It was 21-6 at the half, and it looked like the Maroons put the game away when they took the first possession of the second half 54 yards, ending on a 17-yard touchdown run by Caden Calcari. Conway's fourth PAT kick of the game gave Menominee a 28-6 lead.


But the Braves had an answer as Kelly hooked up with Eli Berthaume for a 32-yard touchown pass with 6:53 left in the third quarter. Gladstone missed on the two-point conversion, however, something that has happened a lot this season, and would ultimately cost them a victory in this game.

Menominee again came back with a steady diet of Theuerkauf and Bellisle on a 64-yard touchdown drive. Theuerkaukf ended it with a one-yard TD run, and Conway's fifth PAT kick made it 35-12 with 2:17 left in the third quarter.

Then the Maroons got the ball on an on-side kick (kind of) and drove to the Gladstone ten yard line early in the fourth quarter. Menominee had 4th and 3 at the ten when the Maroons failed to deliver the knockout punch when Bellisle fumbled.

The Braves did not take advantage, and exhanged punts with the Maroons, and Gladstone still trailed 35-12 with just seven minutes left. And Gladstone was down to its last gasp, forced to go for it on 4th and 5 at their own 43 yard-line.

Who knew that a comeback would start right there, and who knew that it would be Kelly who would turn things around so quickly? He broke off an electrifying 57-yard run, breaking two tackles and tap-dancing just barely inbounds along the sideline for a touchdown. And Kelly muscled his way just barely into the end zone for the two-point conversion run.


That cut it to 35-20 with 6:35 still on the clock.

The Braves tried to get the on-side kick, but the Maroons recovered it. The Gladstone defense forced a three-and-out, forcing a Menominee punt.

And that's when sophomore Vinnie Howes made the game-changing play by blocking the punt. When the play was over, the Braves had it at the Menominee 21-yard line. And it took just one play or Kelly to find Nate Young wide open for a touchdown pass, closing the score to 35-26 with 5:24 left. The Braves missed on another two-point conversion, though, so theystill found themselves behind by two scores.

The Maroons got the ball back and tried to milk the clock as Theuerkauf had two ruus that gave Menominee a first down at the Braves 48 yard-line. But on the next play, a big holding penalty behind the line of scrimmage cost the Maroons 17 yards, and a couple of plays later, they had to punt.

Gladstone needed a 69-yard drive in the final couple of minutes, and that's what the Braves got. Kelly broke off a 22-yard run on 2nd and 10, then found Berthaume for a 32-yard pass down to the Menominee seven yard line. On third down from the ten, Kelly passed to Caden Downey in the end zone for the touchdowm. A two-point pass to Berthaume was completed bringing Gladstone to within 35-34 with 1:46 left in the game.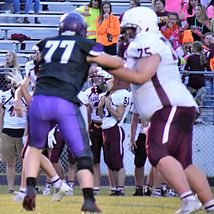 The Braves still needed an on-side kick because they had burned all of their time outs. And that's exactly what they got when Kelly's kick along the Braves sideline got that perfect two high hop and Johnny Hansen fought for the loose ball and got it at the Menominee 38.

It brought back memories of a game last year in Kingsford when the Braves put on a late miracle comeback, including an on-side kick. That game ended when Kelly threw an interception, and unfortunately for Gladstone, that's exactly how this game ended as Kelly scrambled from pressure and forced a throw across the field to a covered receiver.

Laurin picked it off for his second interception of the night and two plays later, Menominee finally ran out the clock on a 35-34 win that gives them a 3-0 record. Gladstone fell to 1-2.

The Maroons were 7-of-20 for 65 yards passing, and had 236 yards rushing. Bellisle had 125 yards on 27 carries while Theuerkauf had 66 yards on 13 carries.

For Gladstone, Kelly completed 11 of 26 passes for 163 yards, three touchdowns, and two interceptions. On the ground, Kelly had 141 yards on 17 carries, two more touchdowns, and two fumbles.