DEFENSIVE BATTLE; Flivvers Outlast Gladstone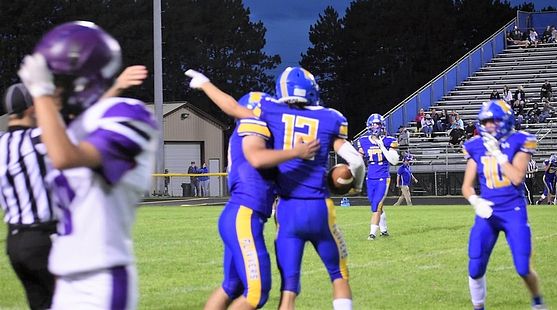 Click the thumbnails to see photos and videos taken by Brad Landis. Also see/hear post-game comments from Braden Sundquist, Zac Person, and Braves Coach Jeff Hansen. Also hear halftime interviews with Braves seniors Caden Downey and Mason Kinonen.

KINGSFORD---The Kingsford High School football team scored touchdowns on two screen passes and a long Toby Wilcox run, and relied on tough defense to beat the Gladstone Braves, 21-6, Friday night at Flivver Field.

"Kingsford outexecuted us at some critical times down the stretch when the game was still hanging in the balance," Braves Coach Jeff Hansen said. "We did some good things, I thought, coming out at halftime and made a couple of adjustments. I thought the defense played their tails off for the majority of the game and gave us a chance to win."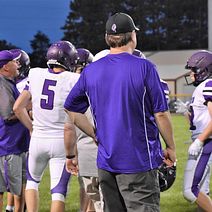 Indeed, the defensses for both teams outperformed the offenses for the majority of the night.

The Kingsford defense hassled Braves quarterback Cam Kelly all night long, sacking him five times and holding him to just 35 passing yards and negative net rushing yards.

The Gladstone defense forced five Flivver turnovers, including a fumble and an interception in the end zone. Kingsford also had three personal foul penalties, two of which kept Gladstone drives alive, but the Braves were not consistent enough on offense to take advantage.

Gladstone had to contend with 6-foot-6 receiver Zac Person, who will play at NCAA-Division One Toledo next fall. The defensive job was given mostly to 5-8 junior Braden Sundquist, and he was up to the task, holding Person to zero catches and breaking up several passes.

"We knew coming into the game that he was a good player," the much-shorter Sundquist said. "I just had to do all I could to make sure that I was in the right position to make the play. I just made sure that I was in the right spot, and then coming up to make plays in front of me and not letting him get over the top."

For his part, Person, who is taking extra classes this semester so he can graduate in January and get to Toledo early, he says he had to take on a different role Friday night.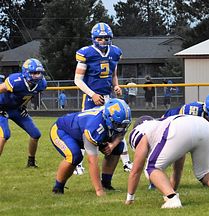 "It's really all about the team, as long as we're winning games, that's what really matters the most to me," Person said. "Tonight, it was really a big defensive night for me. I could very well end up playing defense in college. That's not out of the question. It's really about getting the W's in the end."

This "W" was not easy for the Flivvers. In fact, it was a grind all night long, and they had to overcome their own mistakes and a tough Gladstone runner to get it.

With Kelly efectively silenced at the QB position, the man who carried the load for Gladstone was Cole Potier. He rushed for 143 yards on 18 carries. Potier had 88 of the Braves' 99 yards on their third quarter scoring drive that ended in the only touchdown of the game for Gladstone.

But Kingsford, with legendary former head coach Chris Hofer calling the shots as defensive cooridator, made the defensive plays at key moments, constrantly putting the Braves in long down situations.

Another factor for Kingsford was special teams. Diego Prxeslakowsi routinely kicked the ball out of the end zone, constantly forcing the Braves to start at their own 20-yard-line. At the same time, Nic Nora was a beast in the return game. Kingsford started possessions in Gladstone terrotory or barely in their own territory seven different times.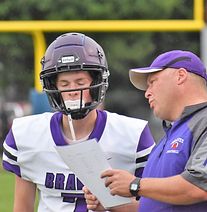 Faced with a short field, the Gladstone defense held firm most of the evening. But they didn't get enough help from their offense to win the game.

Gladstone drove from its own 20 yard-line to start the game down to the Kingsford 28, but turned the ball over on downs. The Flivvers turned it over when Brett Boudreau recovered a fumble, and the Braves got two first downs inside the Kingsford ten yard-line.

Gladstone faced second and five from the Kingsford 7, but a holding penalty in the backfield set them back to the 20. Then Kelly was sacked by Levi Florucci and fumbled. Alaster Johnson picked it up and returned it 45 yards to the Braves 35 yard-line.

The Braves forced the Flivvers into a 4th-and-6 play, but Meneguzzo dumped a screen pass to Nora and he raced into the end zone for the touchdown.

Kingsford looked like it would expand on its 7-0 lead in the second quarter, but Nate Young intercepted a Meneguzzo pass in the end zone. The Braves then missed out on a big play when Kelly overthrew a wide open John Hansen at midfield, a play which surely would have been a touchdown.

It stayed 7-0 at halftime.

The Braves got a stop to start the second half. but got nailed on the punt at their own one yard line. Needing 99 yards, Gladstone got it, on an eight play drive that was kept alive by a Kingsford personal foul penalty. Potier had runs of 20, 14, 9, and then 37 yards for the touchdown. The only yards on that drive by someone other than Potier was an eleven-yard scamper by Nate Young, who hurt his calf on the play and had to leave the game.


The two-point conversion run failed, so Gladstone still trailed, 7-6.

Another nice return by Nora set the Flivvers up at the Braves 45 yard-line, and on a 3rd and 10 play late in the quarter. Meneguzzo dumped off another screen pass, this time to Przeslawoski. He also blasted the PAT through the uprights, maing it 14-6.

"They really execute their screen pass well," Hansen said. "They do it three or four different ways. You';ll see a tunnel screen, you'll see a middle screen, you'll see a classic tailback screen where they flood away from you. They really really feature thair screen game, and they execute it well. It's a killer play if you can get everybody home."

Armed with the eight-point lead, the Flivver defense sold out on stopping Kelly. And Brandon Kopp intercepted a 2nd-and-16 pass in Braves territory, turning the ball over to the Flivver offense for the knockout punch. Kingsford went to the ground game and knocked off several "chunk" plays to set up a first and goal at the 1 yard-line.

Somehow, the Braves forced a fumble, with Sasha Olsen recovering in the end zone.

Gladstone went backward on offense, however, and had to punt. Kingsford got the ball at midfield and Wilcox broke off a 50-yard touchdown run to put the game out of reach with 4:42 let on the clock. Each team exchanged fumbles after that, but it was over.

With the 50 yard run, Wilcox went over the 100 yard mark for the game with 112 on 14 carries. Prezeslakowski had 63 yards on eleven carries, but he lost two fumbles. Meneguzzo completed 7 of 20 passes for 103 yards, two touchdowns, and one interception.

For Gladstone, besidees Potier's 143 yards, the rest of the team had 45 net yards of offense.

Gladstone fell to 1-1 on the season with two road games, and will finally play at home next Friday night against Menominee. The Maroons are 2-0 after a pair of wins over Wisconsin schools. Gladstone will have only two of their final seven games outisde of Delta County.

The Gladstone-Menominee game will be broadcast on FM-93.5 and AM-600.

Kingsford will play its third straight home game next Friday night against Shawano, Wis. That game will be broadcast on FM-94.3. Kingsford has to play all three of its remaining Great Northern Conference games on the road.