Escanaba Eskymos Excited To Play Football Again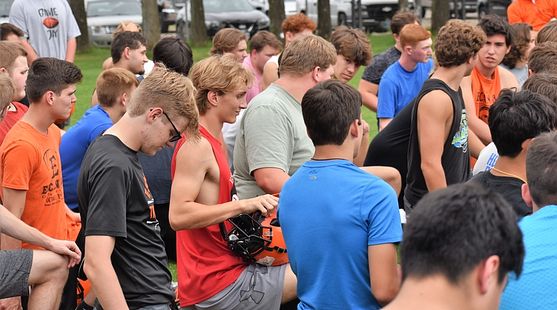 Click the thumbnails to see photos, videos, and see interviews with seniors Matt Zimmerman, Justin Williams, Tristan McGuire, and Coach Dave Wilson.

ESCANABA---The Escanaba High School football team has begun practice after surviving a 2020 COVID season in which the Eskymos played only two regular season games, and none at home. They concentrated on special teams and conditioning on Tuesday, and plan to do more as the week moves on as they are allowed to go into pads.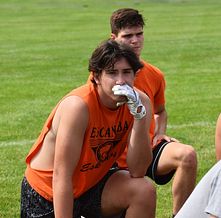 "It's been a tough 16, 17 months," Escanaba Head Coach Dave Wilson said. "We're just happy to be back. We're happy to be back playing without masks, and just happy being in the locker room and being together. It was such a crazy year last year, but now we have 42 kids, and the kids are excited and ready to go."

Eskymo senior captain Matt Zimmerman says it's a relief to be able to be back to normal.

"It's going to be great," Zimmerman said. "I hated all of the (COVID) testing and stuff. It's great that we won't have all of those headaches for the players, coaches and staff."

Wilson, being a line coach most of his career, not surprisingly feels that the battles in the trenches is where the Eskymos will have to be successful this year. His kids agree.

"Our defensive line needs some work, but I think it will be good," Eskymo senior lineman Justin Williams said. "I've been constantly working out over the summer. Working on my speed and getting stronger."

"Just us getting fast off the ball and being super-aggressive," fellow senior Tristan McGuire added. "That's what our team needs. We've got a big team, and it should be good."

The Eskymos open the season Aug. 27 on the road at Antigo, Wis., and will travel to Petoskey on Sep. 3, before they play their first home game since 2019 on Sep. 10 against Marquette.

"I'm just really counting down the days until August 27th," Zimmerman said. "I'm just so glad to get back out here with my guys. It's been a really long off-season."