Gladstone Braves Optimistic As Practice Gets Going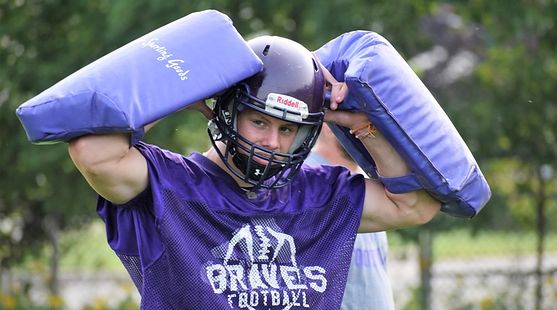 Click the thumbnails for photos, videos, and interviews.

GLADSTONE---The Gladstone Braves Monday evening held their first practice of the 2021 football season. The Braves beat Negaunee and Sault Ste. Marie to start the abbreviated 2020 season befoore dropping their final three games, including nailbiters against Kingsford and Escanaba. Gladstone then lost theitr playoff opener to Negaunee 28-14.
But the Braves are looking for bigger things this year, led by quarterback Cam Kelly, receiver John Hansen, running back Cole Potier, and All-UP linebacker Hunter Potier.

"I think we're going to be solid," Braves Head Coach Jeff Hansen said. "We're big and strong up front. We're fast and athletic in the backfield and out on the perimeter. So, I'm pretty excited about what we're going to bring this year."

"I feel great," Kelly said. "It feels good to be back. We have a young team. We have four guys moved up right now (from junior varsity). But I'm optimistic about it."

"Last year, I struggled a bit reading defenses and throwing, so I've been working on that and I think I've improved. I'm excited. We have nothing left to lose. It's our last year of playing (high school) football."

"It's definitely to fun to get the guys out here," Braves senior wide receiver John Hansen said. "It's going to be a fun season. I think our line definitely has some work to do. And our skilled guys have to get faster, for sure. Get those 50/50 balls. We definitely have to come together and play team ball."
The Braves have a tough schedule this year, with non-conference games against Gaylord, Elk Rapids, Sault Ste. Marie, and Calumet, to go along with the Great Northern Conference games.

"We have one of the toughest schedules in the state," Coach Hansen said. "Our conference schedule is crazy tough. All good teams. Our out-of-conference schedule is tough too."

"We've got Class A schools, which is very good for us because it gives us the opportunity to collect playoff points, quality points with competitive wins."
The Braves season opener is August 27th at Calumet.

Coach Hansen says it's also great to be back on the field without COVID-19 restrictions. Last year, the team had to cancel its season opener, and had to wear masks or face shields all season long, and had to submit to regular testing. This year, the Michigan High School Athletic Association and the Whitmer Administration have lifted all such restrictions.

"It feels great," Coach Hansen said. "Last year, it was so questionable all the time. You didn't know if you were practicing or playing. Just the stability and normalcy this brings to the kids' lives is good."

You'll be able to hear every Braves game, home and away, on WCHT-FM (93.5), WCHT-AM (600) and on-line at www.rrnsports.com.

GLADSTONE BRAVES SCHEDULE
Fri Aug 27 at Calumet 7:00
Fri Sep 3 at Kingsford 7:00
Fri Sep 10 vs Menominee 7:00
Fri Sep 17 at Escanaba 7:00
Fri Sep 24 vs Marquette 7:00
Fri Oct 1 at Elk Rapids 7:00
Fri Oct 8 at Negaunee 7:00
Sat Oct 16 vs Gaylord 3:00
Fri Oct 22 vs Sault Ste. Marie 7:00