Gladstone Braves Seniors Go Out On Top!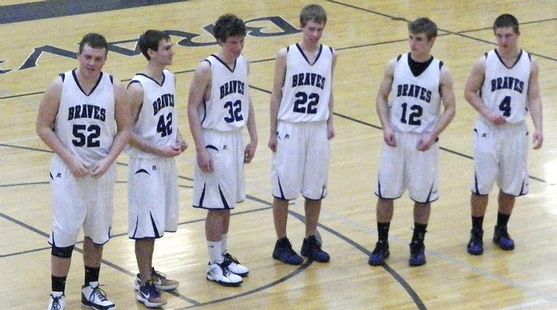 GLADSTONE---The plan didn't work exactly the way Phil Griebel wanted it to work.
But in the end, it worked. Griebel started several players who normally do not see much playing time on "Senior Night" and the Braves fell behind the Manistique Emeralds, 14-0, halfway through the first quarter.

The team pulled together to get to within one point at halftime, and went on a 25-2 run in the second half to close the regular season with a 71-59 win.

"That's not the way we planned on starting the game," Griebel said. "I wanted to give the seniors an opportunity. I feel bad for them because they work so hard in practice. They missed a couple of shots there that I think would have helped them. They were nervous. But we came back."

Four Gladstone Braves scored in double figures, and a couple of guys took turns at helping the team dig out from underneath that 14-0 hole.

In the second quarter, Jared Vuksan scored 11 points, with a couple of his baskets coming when he was triple-teamed. Peyton Jurek also had a couple of baskets in the quarter, and Cody Frazer had a steal and a hoop with 1:04 left in the half to give Gladstone its first lead at 28-26.

Manistique rallied to take a 31-30 lead at halftime as Kyle Tiglas and Kenner Broullire both scored 11 points. Broullire hit a three-pointer that bounced on the rim twice in the third quarter to tie the game at 39-39, but things quickly went downhill for the Emeralds from there.

The Braves would score 25 of the next 27 points, and the game was pretty much over.

"We picked up the defensive intensity with out trap," Griebel said. "They turned it over a few times, and we got a few rebounds, played a little faster. Peyton was a leader out there. He stepped up. He was telling the guys that they had to work harder on defense, and get their hands up on defense."

Michael Cretens hit three straight three-pointers in the third quarter to key that run. It was fun as well for junior Joey Godfrey, who gets very little playing time in most games. But Godfrey bounced in a three-pointer as time ran out on the third quarter.

"That was neat to see him get out there," Griebel said. "He was hustling all over the place. He's been working hard in practice all year. For him to get that three-pointer, it was pretty special."

Vuksan and Jurek both had 16 points, while Cretens had 14 and Frazer 12.

Junior point guard Blake Ballard, the hero of the Braves' win in Escanaba last Friday, sat out the game because he has a case of mono. Griebel says that Ballard will be out for at least the next two weeks because of it. The fact that Ballard was in street clothes was a factor in the game.

"They're all used to him handling the ball most of the time," Griebel said. "The guys are used to Blake penetrating and then kicking it out to our shooters. It was an adjustment. But it's something that we've got to deal with. It's life."

Manistique (5-14) was led by Tiglas' 23 points and 14 from Broullire. Gladstone, meanwhile, closed the regular season with a 9-10 record.