Wilson Hired New Eskymo Varsity Football Coach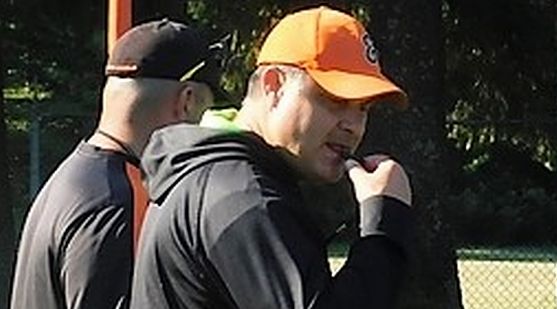 ESCANABA---The Escanaba High School football program has a new head coach, although he's not new to the program.

Dave Wilson was confirmed as the new varsity coach by the Escanaba Shool Board Monday night, accepting the recommendation of Athletic Director Tony Perino.

"Dave just brings so much to the table," Perino told RRN Sports Monday night. "He's got a lot of enthusiasm, both for the offense and defense. He's not really looking to revinvent the wheel, but Dave said a couple things that really stood out to me. One was that 'great teams are built in the weight room'. And he talked a lot about building relationships with kids."

Wilson will replace longtime head coach Dave Howes, who resigned last month to spend more time with his family. The Eskymos made the state football playoffs in each of the last five years, and Wilson was along for the ride as an assistant coach.


"I've had a great times coaching with those guys, and we've had some really good teams over the past few years," Wilson told RRN Sports Monday night. "It was disaapointing because Dave is one of my best friends. But he wanted to step down for his own reasons. But I still want to coach. I love coaching. I'm eager and excited to get going as the head coach."

Wilson coached the JV Eskymos last season and has been involved with the Eskymo football program since 1999. He also served as the high school athletic director for eight years before resigning in 2014 to concentrate on being a coach and teacher.

"Dvae Wilson being a teacher and a coach, in my mind, is pretty much as much of an essential member of the Eskymo family as any staff member there," Perino said. "We have alot of great staff and coaches. I think Dave's going to be successfil for the next seven to ten years, which is his goal. He wants to compete for a conference championship, and beyond, every year."

Wilson takes over a team that only got to play three games this year because of the coronavirus. But he says the guys will be hungry to get back at it, adding that he hopes they are able to get their winter and spring sports in before turning their attention to football.

''Next year's team is young in a lot of ways," Wilson said. "We do have some experience coming back. We have a lot of kids who love playing football, and not just that. I'm an advocate for all sports. Four years goes by fast, and exvery student athlete needs to relish every minute, and compete in as many sports as they can."

Click the AUDIO buttons to hear interviews with Wilson and Perino, and see a Wilson practice video clip.