ROLLIN' RAAB: Transfer Helps Jets Win State Title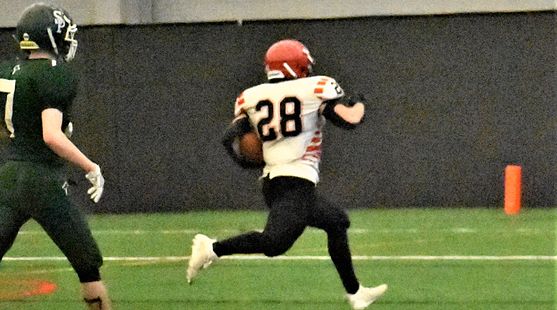 BRIGHTON, Mich.---When Wyatt Raab transferred to the North Central High School from Illinois last fall, he posted a photo of himself in a mock "signing" event to mark his becoming a Jet. It was a tongue-in-cheek photo that mimmicked what high school seniors do when they sign with a college team.

But after the performance Raab turned in Saturday in the MHSAA Eight Player state championship game, an actual college signing event may become a reality down the road.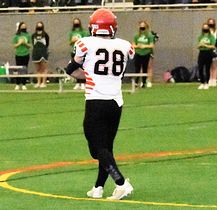 Raab scored on four long touchdown runs, and had a fifth called back on a penalty, as the Jets outslugged the Shamrocks, 70-48, in a battle of unbeatean teams inside the Legacy Center in downstate Brighton.

The quick strike touchdowns came on the same play, a shovel pass from the quarterback to Raab that, depending on where he got the ball in relation to the line of scrimmage, was techically either a pass or a run in the statistics. It ended up being two of each, but that did not matter to anybody in red and white.

And that wasn't all. Raab sacked St. Patrick's talented quarterback in the end zone for a safety early in the game, and teammed up with Fabian Chartier for two consecutive sacks to end the first half. And Raab scored three two-point coversions, two on the ground and one in the air.

Not a bad night at the office for a guy who stepped into a larger role on the team because it was rocked by a positive coronavirus test result just days before the biggest game of their lives.

When contact tracing protocols were imposed, NCA had to leave six boys home, including the team's lightning-fast receiver/returner/rusher Alex Naser, and the tough-as-nails senior lineman Carter Eichmeier. The Tietz brothers (Carter and Caden) also had to stay home because of contact tracing. None of them were sick, according to Coach Leo Gorzinski.

But in the end, the "next man up" mentality carried the day.

St. Patrick, it should be noted, also was missing two key players: All-state linebacker Derec Fedewa, and All-state guard Chase Fitzsimmons.

And of course, Luke Gorzinski was his usual self at the quarterback position. He had to leave the game twice because of dehydration, in fact, one time so severe that he was throwing up in the locker room. He kept drinking fluids, however, and kept coming back.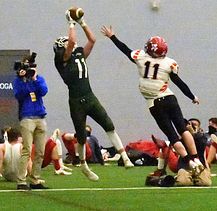 Gorzinski rushed for a whopping 299 yards on 32 carries, and sxired four touchdowns. He also completed eight of 14 passes for 156 yards and three touchdowns.

A quick check of the math shows that Gorzinski was in on 455 yards of total offense and seven touchdowns, as the team rolled up 529 yards of offense.

Gorzinski also cashed in on three two-point runs. And on defense, he led the Jets with ten tackles (seven solo).

There were other guys who also stepped up in the absence of some of the Jets' top players, notably sophomore Dylan Plunger, who had eight tackles (six of them solo).

Senior Wyatt Riley also had eight tackles (five solo) and another sophomore, Jordan Messenger, also played big with five solo tackles.

And Ian Gorzinski quietly did his job with nine tackles (seven solo) and two-and-a-half sacks. He also pulled in a key touchdown on offense just before halftime when his cousin Luke launched a 39-yard strike on fourth and long.

Ian Gorzinski juggled it off his upper chest and made the reception. That helped NCA build a 34-22 halftime lead, which had it not happened, would have been a six point game, with St. Patrick getting the ball first in the third quarter.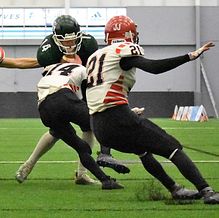 NCA looked early like it would dominate the game, taking the opening kickoff and going 53 yards in ten plays, capped off by a one-yard Luke Gorzinski run and a two-point pass to Raab, who caught it just above the Legacy Field turf. Then on the Shamrocks' first possession, the Jets bull rushed quarterback Connor Cross, sacking him on two straight plays.

The second sack, by Raab, was in the end zone for a safety, giving the Jets a 10-0 lead.

The Shamrocks kept battling back all day long. Cross was able to zip passes into his reliable receivers, notably Shane Cook, who caught 13 passes for 179 yards and three touchdowns. In all, Cross completed 25 of 38 passes for 374 yards and six touchdowns, with Seth Frawley also catching two touchdown oasses and the speedy Jacobe Hayes-Dunning catching another.

But every time St. Patrick came back (the Shamrocks closed to within one touchdown on multiple occassions), the Jets had the answer. And the end result was a team that overcame tremendous odds, including a last-minute curveball thrown by the pandemic.

It was the school's third football state championship in the decade, to go along with three basketball state championships.. The team returned home early Sunday morning to police escorts. A long journey, with so many twists and turns, ups and downs, stops and starts, and more stops, ended with the ultimate prize.

Click the thumbnails above to see photos and video clips, and hear radio replays of some of the best plays of the game.