WORTH THE WAIT: Jets Headed To State Finals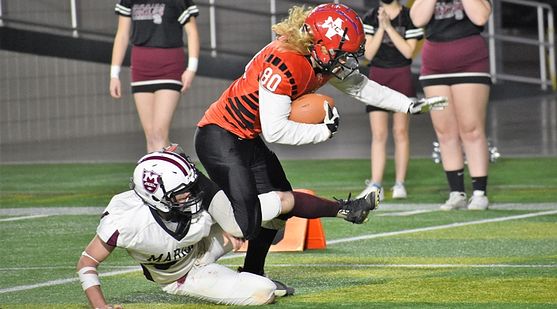 Click the thumbnails in the ARTICLE HIGHLIGHTS box to see photos and videos, and to watch video comments from the players.

MARQUETTE---The North Central Jets football team continued its dominating march to the state finals on Saturday, despite a statewide youth sports shutdown that spanned seven weeks.

The Jets didn't miss a beat in the Eight Player State Semifinals, beating Marion, 50-2, at the Northern Michigan University Superior Dome.

They've now won every game they've played by the mercy rule (except for one), and they've earned the right to face Portland St. Patrick in next week's championship game.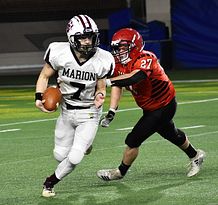 "These guys have been so focused, and they've overcome every obstacle that's been put in front of them," Jets Coach Leo Gorzinski said. "They actually didn't do some of the things well that we worked on at the beginning, but we adjusted and found some other things that worked. I think a lot of it is, and no offense at all to the football played down there, but what we play against here in the U.P. is just stronger."

"We are proud to represent the Upper Peninsula against anybody."

His son, Luke, had his typical stellar game, scoring four touchdowns on the ground and passing for another from the quarterback position. Luke Gorzinski (and his teammates) also did it on defense as the Eagles managed only two first downs in the first three quarters of the game.

The Jets also dominated in the trenches, with both the offensive and defensive lines getting a huge push off of the line of scrimmage throughout the game.

"All the history books are being written right now, with us," Luke Gorzinski said. "It's a story that no one has told yet. The season we've been through, and all we've put up with. This is a perfect continuation of what we're going to do. Anyone on our team, anyone who comes to our practices, has a chance to breaking one out, and doing something special."

"It's just an incredible group."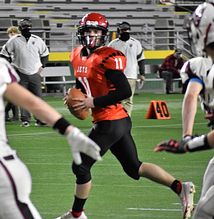 "I think what we just realized what we were looking for in the big picture," NCA senior center Fabian Chartier said. "We all took a sacrafice and when we found out there was time off, we still worked out, we still took precautions. And then, when we found out that we were back on, we knew it was 'go time' and I think our team picked up right where we were supposed to."

Perhaps an unsung hero in the game was Wyatt Raab. The junior, who transferred here from Illinois before the start of the schiol year, had a great all-around game. He blocked a punt, scored a touchdown on a 49-yard run, and had three tackles for loss, including a quarterback sack. Raab also ran in a two-point conversion.

And the NCA defense was led by an unusual source: Luke Kleiman. The senior is known for his work on offense, and occassionally on special teams, but he was a sure tackler on Saturday.

"This is probably one of my best games on defense," Kleiman said. "We played great out there. We came out ready. We feel great and we're ready for the championship game."

And while the "role players" did their part, and then some, much of the Jets' success has been, and continued to be, because of Luke Gorzinski's abilities. He was not physically 100-percent for Saturday's game, yet, he was literally unstoppable. He had just nine carries on the ground, and four of them went for touchdowns. And Gorzinski had 115 yards of rushing, for a 12.7 yard-per-carry average. And that was against a regional champion team in the Eagles.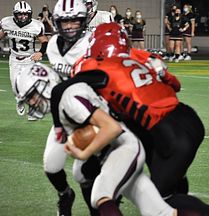 "They played a real safe defense," Luke Gorzinski said. "They kind of cut off my passing game. Very early, I struggled in the passing game. But they were kind of giving us the mid-side runs, and we just t0ok advantage of it."

It's hard to deny that the emotional heart and soul of the NCA team is Carter Eichmeier. His statistics are not flashy, but his overall play (and the long hair flowing from the back of his helmet) is. He, often teamming up with Raab, are a terror for the opposing quarterback, and Coach Gorzimski likes to occassionally "feed the beast" with an offensive play.

That happened again on Saturday as Eichmeier scored on a 21-yard pass from backup quarterback Brent LaBonte (who, by the way, has also shown himself to be capable in the huddle in relief of Gorzinski). That touchdown happened during "garbage time", which for the Jets this season, has consistently been in the second and third quarters.

On Saturday, NCA scored 36 points in the first quarter to quickly take any suspense out of the outcome. Gorzinski scored on a 40-yard run 4:37 into the game (after his father complained about the sluggish execution on the first handful of plays).


Gorzinski scored on a seven-yard run moments later, after Carter Tietz hit Marion's talented sophomore quarterback, Mason Salisbury, forced a fumble, and then recovered the loose ball eight yards up-field. Then after a short punt, Gorzinski threw to a wide-open Alex Naser in the end zone, and NCA was ahead, 22-0.

Gorzinski scored two more touchdowns, on runs of 35 and 8 yards, before the first quarter was over. And following the same theme that's been evident all season long, the starters sat large chunks of the game from there, with LaBonte & Company handling the snaps.

"I might get all the headlines and stuff, but these guys deserve it," Luke Gorzinski said. "Seeing Fabian (Chartier) and Carter (Eichmeier) light somebody up and pancake them, it's just great to turn around and give them a high-five."

A bright spot for Marion was Salisbury, who withstood a relentless assault from the extremely quick NCA defense to keep his Eagles team on the field. He completed 5-of-10 passes for 53 yards, and did not throw an interception (although there were two fumbles). The Eagles scored their only points of the game on a safety in the final minute.

North Central will be the only Upper Peninsula football team still playing next week, after both Iron Mountain and Negaunee weee eliminated in their divisions on Saturday.

The Jets will face the Portland St. Patrick Shamrocks, a veteran championship-caliber program, next Saturday at an indoor turf facility in downstate Brighton.

Unlike Saturday's game at the Dome, which allowed no fans, there will be 250 allowed at the state championship game. The game time is set for 2:00 ET/1:00 CT. You'll be able to listen to our broadcast on Eagle 107.3 FM and radioresultsnetwork.com.