END OF THE LINE: Iron Mtn. Loses Heartbreaker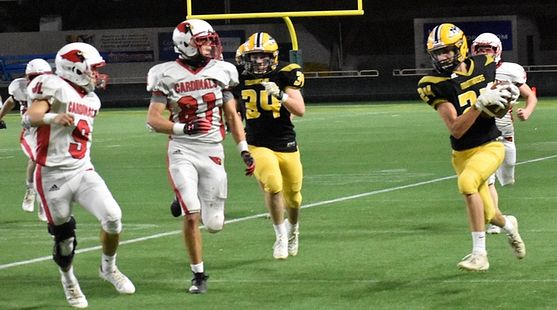 Click the thumbnails to see photos, videos from the game.

MARQUETTE---The football season came to a heartbreaking end for the Iron Mountain Mountaineers Saturday night, as they lost a 7-6 decision to Johannesburg-Lewiston in the MHSAA Division Eight Regional championship game at the Superior Dome.

The Mountaineers battled offensive inconsistency all night long, but still had a chance to win on the final play of the game when senior Caleb Evosevich-Hynes lined up for a 37-yard field goal. He had the distance, but hooked it to the left, ending a frustrating season that wrapped up two months late because of coronavirus-related shutdowns.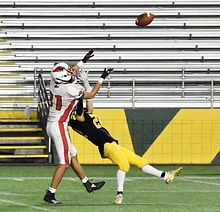 The Iron Mountain defense played an outstanding game, forcing two second half turnovers, and stuffing the Cardinals on a 4th-and-inches play with two minutes on the clock. Lucas Maxon had the big push in that short-yardage situation, setting Iron Mountain up with plenty of time.

A pass down to the 13 yard-line seemed to have Iron Mountain in position for a touchdown, but a 15-yard unsportsmanlike conduct penalty was called on the Mountaineers. Iron Mountain moved it to the 20 yard-line, ran down the clock, and tried the field goal. But it waasn't to be.

The Mountaineers played a large chunk of the fourth quarter without quarterback Eli Lofholm, who suffered a painful ankle injury. He came back into the game down the stretch.

Iron Mountain took a 6-0 lead in the first quarter on a six-yard touchdown run by Gabe Richtig. Who knew that would be the only points the Mountaineers would put on the board?

Jo'Berg took the lead on a Sheldon Huff touchdown in the third quarter, and the all-important extra point kick was snugged inside the right goal post. That was the difference of the game.