ON TO THE FINAL FOUR: Jets Roll Over Trojans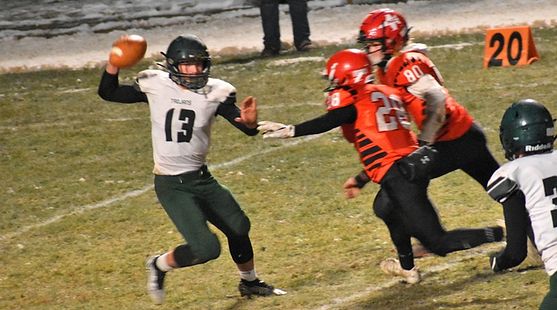 Click the thumbnails in the ARTICLE HIGHLIGHT box above to see photos and videos, and to hear interviews with Alex Naser, Fabian Chartier, Wyatt Raab, amd Coach Leo Gorzinski. Also, hear halftime interviews with Gavin Casperson, and Naser, and hear Cedarville Coach Scott Barr's pre-game comments and Jerry Root's poem about the NCA Jets.

POWERS---The North Central High School football team played its toughest opponent of the season Friday night, but the result was the same as it has been all season long.

The Jets tore past the Cedarville Trojans with 55 first half points in a dominating 55-8 victory to clinch the regional championship. The win gave the undefeated Jets a spot in the semifinals against the Marion Eagles, which shut out Hale, 14-0, to win a regional title downstate.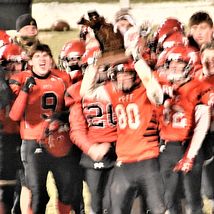 "This team wants this more than any team I've ever coached," NCA Head Coach Leo Gorzinski said. "They felt the pain of the last couple of years. They're not just playing for themselves, they're playing for those guys, too."

"Coming into this game, from other coaches on the eastern end, our guys were told that they were soft: 'Cedarville was gonna take it to you guys. You're soft'. Well, we're not soft. Let it serve notice that our defense is faster than you are, and we're coming after you."

For the second week in a row, Alex Naser set the tone by returning the opening kickoff for a touchdown. This time, it was a 95-yard return after the ball initially bounced through his legs as he tried to field it at about the 15 yard line.

"I couldn't really see under my face shield," Naser explained. "I was expecting it to take a different bounce but it went underneath my legs. I grabbed it and saw the left side was open. I went with what I got and I'm thankful for my blockers. They saved me and I took 'er to the house. I'm not gonna lie. I was pretty run down. I haven't run 95 yards full spead in a long time. It winded me a little bit!"

"Gosh, did he set the tone for us," Gorzinski said. "His will was stronger than everybody else's."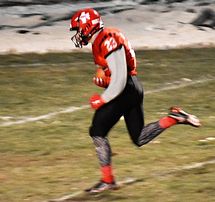 "I don't thlnk people realize the type of impact that makes on the other team," NCA senior Fabian Chartier added. "Just for us getting that energy right away, and then that hurts them kind of menatlly, I feel."

Later, Naser would turn in an electrfying 58-yard touchdown run on a toss to the near sideline. He sprinted to the end zone after literally sidestepping a would-be tackler on the play.

"I watched film on him (Cedarville's Grant Fountain) and once in a while, he drops his head," Naser said. "So I saw him coming out of the corner of my eye and I was like, man, I don't want to get hit by this guy, he's coming fast! So I stepped back and luckily he had his head down and he didn't see where I went. So I just kind of side-stepped him and I just kept going."

The NCA defense has been perhaps the most underrated part of the team. On Friday, against a Cedarville team that had two big 65-yard pass plays to beat Rapid River a week earlier, the Jets defense was flawless, forcing four first half turnovers.

Carter Eichmeier recovered a fumble that eventually led to a short Luke Gorzinski touchdown run to make it 14-0. Carter Tietz intercepted a Bailey Hilts pass deep in North Central terriory, and Naser's 58-yard run made it a 20-0 game.

Wyatt Raab broke off a 33-yard touchdown run to make it 28-0 before the Trojans returned the ensuing kickoff for a touchdown on a Aidan Ondrus 80-yard scamper.


The Jets didn't miss a beat, however, as Luke Gorzinski found his cousin Ian in stride for a 31-yard touchdown pass with 31 seconds left in the first quarter. Then when Cedarville got the ball back, the Trojans fumbled and Raab took it to the house on a scoop-n-score recovery.

"Everybody out there is just insane," Raab said. "Our defense is super-underrated. I think all three of us (Raab, Eichmeier) including Big Chibs here (Chartier), we're all just super enthusiastic and play with a lot of fire and it shows."

The defensive touchdown gave North Central a 42-8 lead after the first quarter.

Gavin Casperson caught a 58-yard touchdown pass. amd Luek Gorzinski scored on a two-yard run in the second quarter. Then the Jets did something they haven't done since 2015 when Daniel Dani split the uprights on an extra point kick.

Dani would later line up for a 42-yard field goasl attempt, but he never got the kick toward the uprights as he was hit by a Trojan player who was called for roughing the kicker.

With the win, North Central improved to 9-0 on the season, carrying the state's #1 ranking into next Saturday's semfinal game against the 8-1 Eagles.

Cedarville finiahed its season with a 7-2 record.