STATEMENT MADE: Jets Fly To Playoff Win, 52-8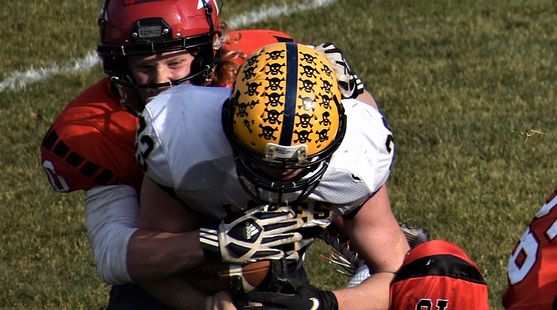 Click the thumbnails to see photos, video highlights, and hear post-game comments from Luke Kleiman and Carter Eichmeier. Also, hear the player spotlight interview with Ian Gorzinski.

POWERS---The North Central Jets High School football team entered Saturday's second round playoff game against the Lake Linden-Hubbell Lakes with more than one goal in mind.

The Jets not only wanted to win and advance to the regional championship game, they wanted to send notice to Michigan's other seven remaining Eight-Man football teams: anyone wanting the state championship will have to deal with the North Central Jets.


North Central proved they were even better than a "close" 34-22 win over Lake Linden-Hubbell in the regular season. Mission accomplished.

The Jets on Saturday rolled through a good Lakes team, 52-8, scoring 52 points in the first half and then literally ran out the clock throughout the entire second half.

Alex Naser set the tone by returning the opening kickoff for a 76-yard touchdown, Luke Gorzinski threw two touchdown passes to his cousin, Ian, and Naser scored two more touchdowns as the Jets showed that they are one of the favorites as the playoff field gets whittled down.

"We definitely wanted to prove ourselves today against Lake Linden," NCA senior Luke Kleiman said. "We definitely did. We showed up, played hard, and ended up taking the win today. Our first game against Lake Linden, we definitely were missing a few players. The weather was a little bit bad, but come here, the weather was amwazing. Definutely played a lot better, were able to catch a few balls, get some great runs, and get some touchdowns."

That regular season meeting was played in Lake Linden, on a snowy-slushy field with seven Jets players missing due to quarantine. But on Saturday, the Jets were at full strength, and it was a sunny 71 degrees at kickoff in Powers/Spaulding.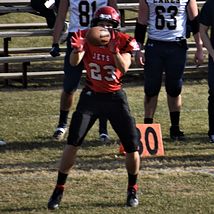 "It's awesome," NCA senior Carter Eichmeier said. "I'm so glad this weather's here. It's amazing. It fits perfectly for the kind of games we want to play. Fast. Air the ball out. It was awesome. The line getting it done is huge. On offense, when you can block, it makes everything open, easier. And on the defensive line, when you've got a fast pass risher like Wyatt Raab, and Fabian Chartier on the other side, all of us coming together is just amazing."

North Central led, 30-0, after the first quarter, and 52-0 at halftime, before Lake Linden managed a second half touchdown on a breakway 77-yard touchdown run by Mason Codere.

Luke Gorzinski competed 7-of-11 passes for 153 yards and three touchdowns. Two of the touchdowns, good for 25 and 45 yards, went to Ian Gorzinski. The other TD pass was a 39-yarder to Naser. Luke Gorzinski also scored on a one-yard run.

Naser had a 44-yard touchdown run and Wyatt Raab ran one in from 15 yards out.

The Jets had 342 yards of total offense. The Lakes finished with 187 yards of offense.

North Central stayed undefeated, and will host Cedarville next Friday night. The Trojans knocked off Rapid River, 28-20, in the other regional semifinal. Friday's game starts at 6:00 Central/7:00 Eastern, and you can hear the broadcast on Maverick 106.3 FM, NewsTalk 600 AM/93.5 FM, and on-line at www.radioresultsnetwork.com and www.rrnsports.com.