CRUISE CONTROL: NCA Jets Smack Eagles, 74-6

Click the thumbnails in the ARTICLE HIGHLIGHTS box above to see photos and videos, amd interviews with Wyatt Raab, Max Nason, and Caden Tietz.

POWERS---The North Central Jets football team scored early and often on Saturday as they opened the MHSAA Eight-Man playoffs with a 74-6 win over the Engadine Eagles.

The Jets scored touchdowns in all three phases of the game: offense, defense, and special teams, and NCA advamced to the second round next week against Lake Linden-Hubbell.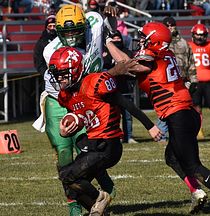 The Jets won the regular season meeting, 34-22, while seven players missed the trip due to COVID-19 quarantining.

"I was really frustrated last time when I wasn't able to play," Jets center Max Nason said. "I wanted to play against that team because they were supposed to be the best team we were gonna play. Then, I heard I got quarantined. So, I was like, well, I'm sitting out. But I kept working and I am very excited. I want to show the whole U.P. that we're the #1 team."

"Nothing against Engadine, but from here on out, every step of the way, is going to be a battle," NCA Coach Leo Gorzinski said. "These are very good football teams that we're going to face. Lake Linden brings with them a ton of tradition and pride. When they come in here, we expect to have a physical battle. We're praying it's not going to be the snowstorm and sleet we had last time."

On Saturday, Luke Gorzinski completed 7-of-10 passes for 134 yards and three touchdowns.

Two of the touchdown passes were to Alex Naser (24 yards and 13 yards). Those scores came on the Jets' first two possessions as they raced to a 14-0 lead over the Eagles.

The Jets scored on defense as Fabian Chartier sacked quarterback David Petrie in the end zone for a safety. Then the Jets scored again on a 36-yard touchdown pass to Gavin Casperson.

NCA then scored another defensive touchdown as Carter Eichmeier recovered a fumble and returned it 35 yards for a scoop-n-score. After Naser caught his second straight two-point conversion pass, the Jets had a 32-0 lead. It was still the first quarter.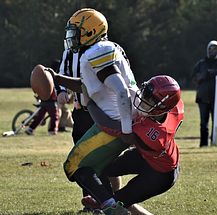 North Central (6-0) added three more touchdowns in the second quarter, as Ian Gorzinski ran one in from 13 yards out, and then he hit Wyatt Raab for a 17-yard touchdown to make it 46-0.

"Everybody played really well," Raab said. "We had to put up with a big defensive line. Our DB's were covering good. Luke was obviously playing well, like always. It was a good game."

The Eagles didn't give up, as Matthias Miller threw a 43-yard touchodwn pass to Travis O'Neil. But the Jets got that touchdown back when Casperson took an interception to the house for a pick-six, and the Jets had a 54-6 lead at halftime.

The reserves put a touchdown on the board in the third quarter with quarterback Brent LaBonte tossing a short pass to Caden Tietz. Tietz took it 90 yards to the house, and LaBonte ran in the two-point conversion to give the Jets a 62-6 advantage.

"I had to cut inside because I seen the guy coming around," Tietz said. "I just took advantage of it. I went inside and then I tripped. But I covered it! I was winded out (of oxygen). I couldn't stay out there for the kickoff. I had to tell Owen Eichmeier to come in for me."

The final touchdown of the game came on special teams. Elijah Gorzinski picked up a punt (after it was bobbled by a teammate) and took it 50 yards to the end zone.

Engadine finished its season 0-7.

Meanwhile, Lake Linden-Hubbell ripped Forest Park in Crystal Falls, 48-8, setting up the Lakes-Jets semifinal game next weekend in Powers. The other semifinal will see the Rapid River Rockets travel east to face the Cedarville Trojans.