Jets Soar Past Stephenson To End Regular Season

Click the thumbnails to see photos, video highlights, and interviews with Fabian Chartier and Luke Gorzinski.

STEPHENSON---Luke Gorzinski ran for four touchdowns and threw for another as the North Central Jets wrapped up a perfect regular season Saturday with a 50-8 win over the Stephson Eagles. The Jets finished 5-0 with their smallest margin of victory being 14 points, and they will enter the state playoffs next Saturday as the top seed in the eight-team regional.

Gorzinski set the tone on the first play from scrimmage as be burst off the left side of the line and took it 62 yards to the end zone. Alex Naser caught the two-point pass.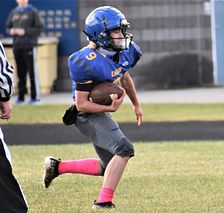 Then on the second NCA posession, Gorzinski caught a 55-yard pass from his cousin Ian deep into Stephenson territory.

Luke Gorzinski scored on a four-yard run, and Ian Gorzinski added the two-point run to give North Central a 16-0 lead midway through the first quarter.

The Eagles couldn't do much against the NCA defense, getting just one first down in the first quarter, and only three first downs for the entire game.

NCA scored on another 64-yard touchdown by Luke Gorzinski to take a 22-0 lead at the end of the first quarter, then the Jets added two touchdowns in the second quarter. The first was a 23-yard TD pass from Luke Gorzinski to Ian Gorzinski, then the second was on an eight-yard run by Luke Gorzinski. The Jets led, 36-0, at halftime, putting the mercy rule into effect.

Stephenson turned the ball over on two straight posessions in the third quarter, and NCA cashed in on a nine-yard run by Naser, and a pretty 44-yard run by Wyatt Raab, who transferred to North Central from Illinois before the school year.


Raab also had a huge sack on defense.

Spencer Coldren scored late in the game for the Eagles on a nice 48-yard run in which he broke several tackles and nearly went down on two different occassions.

North Central had 372 yards of total offense. Stephenson managed 80 yards.

Stephenson finished the regular season with a 3-3 record.

Both NCA and Stephenson will open the playoffs next Saturday afternoon. The pairings will be announced by the MHSAA on Sunday.