Gladstone Braves Have Rough Night In Menominee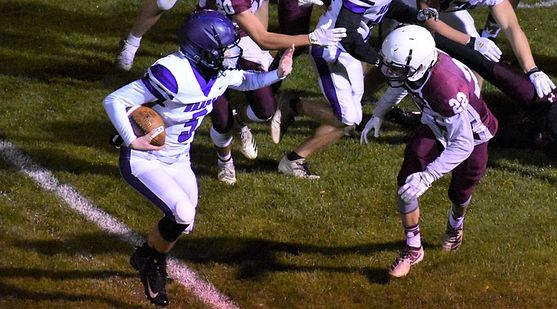 MENONINEE---The Gladstone High School football team ran into a buzzsaw in Menominee Friday night, as the Maroons scored 34 p;oints in the first half and rolled to a 41-0 win in a Great Northern Conference game.

Unlike Gladstone's first three games, which were all decided by two points, there was no suspense this time as Aiden Bellisle had his way in all aspects of the game.


The Marooms took the opening kickoff and went on a 65-yard drive, on 12 plays, with Bellisle breaking off five big runs. He scored on a six-yard run to put the Maroons in front.

Gladstone's first offensive series included a 15-yard holding penalty that set up 3rd and 21, but Cam Kelly was able to bget 20 of those yards, so th

e Braves went for it on 4th and 1, and Kelly converted. But the Braves sputtered from there and couldn't get another first down.

The Marrons went on another 64-yard drive, with Gladstone committing two penalties to help the Maroon cause.

Then on third and five, Jonathon Spegel broke free from the fullback position for a 27-yard touchdown run, The two-point pass to Brody Waara made it 14-0.

Things didn't get better in the second quarter as the Maroons scored three touchdowns, two of them in the final minute. Bellisle's second touchdown, from two yards out, came after quarterback Joseph Haire found Spegel for a 32-yard pass into the red zone.

When the Braves got the ball back, they went three-and-out, and the Maroons, after a long punt return, got another touchdown on a 35-yard pass from Haire to Brady Schultz. That came with 40 seconds left in the half. And Menominee wasn't done.


Kelly tried to get a late score for the Braves, but as he scrambled 20 yards behind the line of scrimmage, he threw back across the field and Bellisle intercepted it. He returned it to the Gladstone 29, and on the first play, Haire passed 29-yards to Bellisle for thetouchdown at the goal line.

All of a sudden, the Braves were in a 34-0 hole.

Ryan Polley got the Braves seccond and third first downs of the half on runs of 16 and 12 yards, but the half ended with Menominee ahead 34-0.

Gladstone took the second half kicikoff and drove deep into Menominee territory behind 17-yard runs by Kelly and Polley. But from the three yard line, a personal foul penalty was costley, and Kelly was sacked for a five-yard loss on fourth down.

Menominee put the mercy rule into effect with a 66-yard drive, capped off by a two-yard run by Haire.

Gladstone falls to 2-2 overall, 0-2 in the Great Northern Conference.

Menominee improves to 3-2 overall, 1-1 in the GNC.

Gladstone will host Escanaba for Homecoming nect Friday night.

Game time is 7:00. Escanaba lost its season-opener in Marquette, 27-6, Friday night. The game will be broadcast live on WGMV-FM (106.3) and WCHT-AM (NewsTalk 600).

Click the rhumbnails in the ARTICLE HIGHLIGHTS box above to see photos and hear halftime interviews with Braves seniors Mason LaChance and Blake Servant.