THURSDAY THRILLER: Esky Girls Top Sault High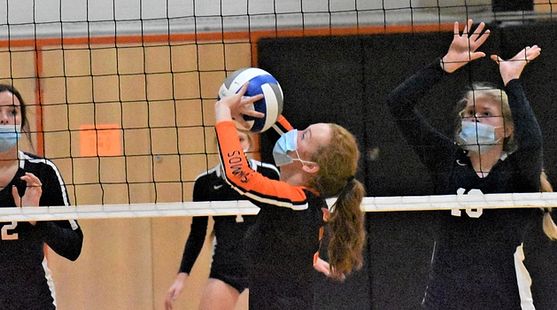 ESCANABA----The Escanaba High School volleyball team pulled out a marathon 3-2 win over the Sault Ste. Marie Blue Devils in a highly-entertaining match Thursday night.

The Eskymos lost the first game, 25-20, before bouncing back to win the second, 25-17. It looked like Escanaba would win the third game when the Eskymos took a 23-18 lead. But the Blue Devils won eight of the next nine points to take the lead in the match with a 26-24 win.

Escanaba forced a decisive fifth game by taking the fourth game, 25-22. Then in the final game, with a small but loud student section cheering on, the Eskymos won, 15-11.

"That, right there, is why I love to coach," Escanaba Coach Adam Lambert said. "The ladies out there, they just played so hard. The emotions were there. Sault Ste. Marie is such a good team, and we just came out and we just didn't give up."

"We were just so excited," said Escanaba senior Bailey Barron, who had 11 kills. "The first game started out a little rough, but we got out of our heads and we were just working well as a team. We were just having a lot of fun."

Nicole Kamin led the Eskymos with 22 kills. Escanaba overcame teh 1-2 punch of Jordyn Haller and Amber Curtis, who led the Blue Devil offensive attack.

Click the thumbnails in the ARTICLE HIGHLIGHTS box above to see photos and videos, and hear post-game comments from Lambert and Barron.