WELCOME BACK: Eskymo Volleyball Tops Eagles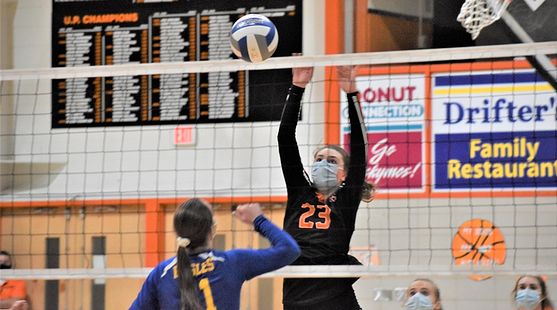 ESCANABA---The Escanaba High School volleyball team played for the first time in three-and-a-half weeks Tuesday nignt, and cruised to a 3-0 win over the Stephenson Eagles.

The scores were 25-17, 25-13, 25-14.

The Eskymos hadn't played since mid-September because of coronavirus quarantine, overlapping with the district's decsion to close the high school for two weeks and shift to virtual learning. The high school returned to in-person instruction on Monday.


"Man, it's been a three-and-a-half week hiatus for us, and it's not been cool, not been fun," Escanaba Coacg Adam Lambert said. "We're back. We're healthy. We're ready to go. I was concerned, being off three-and-a-half weeks that it would be like the start of the season all over again. But the rust, we shook off the last three practices it looks like."

Lambert says his team performed well, given the situation.

"The first game, it was not as strong as we needed to be in my opinion," Lambert said. "But we came out with the win, and then the last two games, they just increased on their offensive strikes and it looked like they were really good by the third set."
"I was proud of the girls tonight."

Escanaba senior Anna Smith says the last 24 days has been difficult.

"Coming back to practice after that long is really hard to get back on our groove and everything," she said. "All in all, I think we played pretty good for being off that long. We usually play down to other teams' level, and we have a hard time getting on our own game. But after we played a little bit and got into the groove of things, we ended up doing a lot better and getting a lot better hits and setting things up more."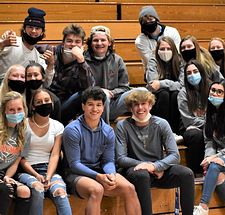 The Eskymos played for the first time with fans in the stands. There was a small student section in attendance, and a few family members as well.

"Having fans helps us so much," Smith said. "Playing without fans is really weird, and the envoronment is just so much better and so much easier to play in."

Escanaba is back on its home court Thursday night against Sault Ste. Marie.

"That's gonna be a tough one, but we'll be ready for it," Lambert said.


TUESDAY'S OTHER U.P. SCORES
Manistique 3, Gwinn 0
West Iron County 3, Ishpeming 2
Houghton 3, Iron Mountain 1
Calumet 3, Negaunee 0
Bark River-Harris 3, North Dickinson 0
Hancock 3, Westwood 0
Peshtigo, Wis. 3, Carney-Nadeau 0

Click the thumbnails in the ARTICLE HIGHLIGHTS box above to see photos and videos, and listen to interviews with Lambert and Smith.