ROAD WARRIORS: Kelly, Potier (X2) Lead Braves

SAULT STE. MARIE---Cam Kelly had three long touchdown runs, Hunter Potier had four quarterback sacks, and Cole Potier had a scoop-n-score touchdown as the Gladstone Braves beat the Sault Ste. Marie Blue Devils, 28-26, Friday night on Blue Devil Homecoming.

"The defense really won the game for us in the second half, and we were able to bust off some big chunk plays," Gladstone Coach Jeff Hansen said. "The second half is more like how I thought the game would go, but you know, the kids fought, I really love my team, there's a lot of fight and a lot of grit and resilience to these guys, and the Soo's a good football team."


The Braves stunned the Blue Devils early on. On the fourth play from scrimmage, Kelly busted free for a 54-yard touchdown run, and Ryan Polley's two-point run made it 8-0.

Then the big defensive play as Hunter Potier sacked quarterback Jakob Davie, stripping the football. It bounced away, and Cole Potier scooped it up and ran 47 yards for the touchdown.

Gladstone was up, 14-0, and after a short Soo punt, the Braves had it at the Blue Devil 25 yard-line. But Kelly fumbled it, and the turnover gave the Blue Devils new life.

The Sault dominated the second quarter, putting together three straight long touchdown drives. Kristopher Pearce capped off a 12-play, 67-yard drive for the the first Blue Devil score. Then after Kelly was sacked twice for 21 yards of losses, the Braves punted, and Sault High went on 69-yard, seven-play drive that ended with a tough 32-yard run by John Robinson.

He also ran in the two-point play, and it was a 14-14 tie.

After a Gladstone punt, the Blue Devils went on a 11-play, 75-yard drive, capped off by a seven-yard touchdown run by Robinson. The Soo fumbled twice on that drive, but recovered both.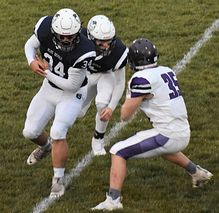 Gladstone needed a spark and got one when Kelly busted free again forf a 65-yard touchdown run to tie the game at 20.

The Blue Devils still had a minute left, though, and used every tick on the clock to complete a 60-yard, eight play drive that ended with a eight-yard touchdown pass from Davie to freshman Callen Campbell as time expired in the first half.

So, the Blue Devils led, 26-20, at halftime. Who knew that they wouldn't score again?

"It was crazy," Braves senior Cam Ballard said. "It went back and forth the whole way and we eventually came out with the win, so that was nice. We started off really good, but then we kind of got complacent. The second half, we ended up coming back, so that was good."

Indeed. The defense forced a fumble on the second play of the third quarter, but Gladstone could not punch it in from the Blue Devil 11 yard line.

Field position had been flipped, though, and after a three-and-out for Sault High, Kelly kept the ball on a 3rd-and-13 play and took it to the house, 55 yards to tie the game.

The two-point conversion was an interesting call as Cam Ballard, filling in for John Hansen who got hurt earlier in the game, ran on a sweep to the near sideleine to make it 28-26.


"I never played in that slot before, so it was obviously new to me," Ballard said. "You've always got to be ready. It sucks that Johnny got hurt."

The Devils opened up the playbook, with Davie completing a 24-yard screen pass to Pearce on 3rd-and-13 deep into Braves territory. But Hunter Potier had two consecutive sacks (with help from Mason LaChance on one of them) and the Sault drive stalled.

Later, the Soo had 1st-and-10 on the 40 when Hunter Potier penetrated again and got another sack, and a frustrated Soo team committed a personal foul penalty. That set up 2nd and 34, and Davie had his pass intercepted at the Sault nine yard line.

The Blue Devils defense came up with a goal line stand, however, stopping Polley on a 4th down run at the 2. So the Soo needed a 97-yard drive to win the game, but couldn't get it past the 30-yard-line, and the Braves celebrated another tight victory.

"We had a bad quarter, but we just came in and kept fighting," Hunter Potier said. "I had to get better on defense (in the second half) on the edge because I kept getting sucked inside. So, I kept working towards the quarterback, and it seemed like it was worth it. It's a great win."

"We've beat two good football teams in a row, so I think you can probably consider the Gladstone Braves a good football team," Coach Hansen said.

Gladstone travels to Kingsford next Friday night.

Click the thumbnails in the ARTICLE HIGHTLIGHTS box above to see photos and videos, and to hear and watch interviews.