Eskymos Open Playoffs With 3-0 Victory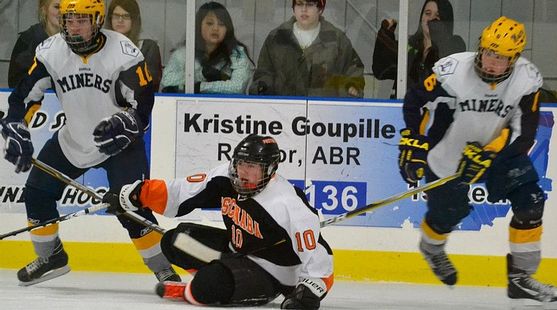 NEGAUNEE---Finally, the road show is over for the Escanaba Eskymo hockey team.

After nine straight games away from home. After traveling a total of 1,911 miles from one end of Michigan to the other. After late-night bus rides, hotel check-ins and check-outs, and 30 days since their last home game, the Eskymos beat the Negaunee Miners, 3-0, Monday night, in their playoff opener at Negaunee Arena.

And with the victory, the guys earned something that most teams take for granted: a home game. Ben Lasecki, Jake Eastin, and Nick Vandermissen all scored goals and Austin Young stopped all 13 shots he faced to help the Eskymos advance to the MHSAA regional semifinals.

And yes, indeed, the boys will finally be able to play at the Wells Sports Complex this Thursday night against the winner of Tuesday's Marquette vs Kingsford game. They haven't played at home since January 31st.

"I think that was the biggest thing that the kids were playing for," Eskymo Head Coach Tim McCarthy said. "Get a home game! I mean, it's been so long. They're very happy to be finally playing at home. Hopefully, we get a good crowd, and I'm sure that we will. I'm really looking forward to it."

"It will be awkward playing at home," Eskymo junior Ben Lasecki grinned. "It's gonna be nice. I'm looking forward to it a lot."

But the Miners (3-20-1) sure didn't make it easy for the Eskymos. They played much better than in the previous 8-0 and 8-1 Escanaba wins.

The Miner defense was more responsible, doing its best to keep the Eskymos to the outside. Negaunee didn't muster much of an offensive attack, but was still one shot away from a tie in the third period.

"Negaunee came out flying, put the body on us, and doing everything they could possible to stay in it," McCarthy said. "I congratulated their coach. When you look at the year that they had, they came out ready to play anybody."

Lasecki finally put the Eskymos on the board 4:15 into the second period as he followed his own shot and beat Miner goalie Austin Rice.

"I was coming in across the blue line and I saw two 'D' right there and Nick was off to the left," Lasecki said. "I was just like, well I don't really have a pass, so I just put it on net. Then I crashed the net hard."

"Ben did exactly what we practiced," McCarthy said. "He came in, took the shot, and followed it, and ended up with his own rebound. I think early on, we were being too pretty on getting our passes across to people. You've got to take the shot in the playoffs."

Lasecki was a +2 on the night, and was picked the game's #1 star.

The Eskymos were up just 1-0 entering the third period, but Vandermissen won a faceoff and Eastin made a nice move and scored 1:37 into the third period.
Then less than two minutes later, on the power play, Vandermissen chopped at a loose puck and made it a 3-0 hockey game.

Vandermissen was on the ice for all three Esky goals, and was the #2 star. In fact, the "animal line" accounted for all of the goals, and it was enough to help Escanaba move on in the regional tournament.

"It seemed like we were flowing pretty good," Lasecki said. "We were dominating, but we just couldn't score. I mean, we were a little slow.

There were no extracurricular activites in this game, as there had been in the previous two meetings. The Eskymos had players ejected in both games, but in this one, both teams just wanted to play some hockey.

"I was real happy to see that this game was not nearly as chippy," McCarthy said. "Everybody thought it might be. But the guys just went out and played good, hard hockey." Escanaba outshot Negaunee, 36-13.