Teen Stock Car Driver Enters Sponsorship Contest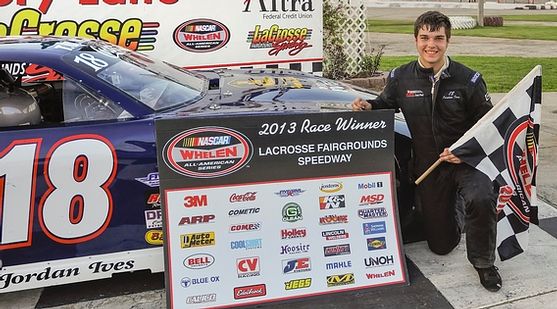 GLADSTONE--- Fifteen-year-old Jordan Ives is one of the youngest people ever to race late-model stock cars in the Upper Peninsula.

And now the Gladstone High School sophomore needs your help to possibly win up to $50,000 in sponsorship money from the Champion spark plug company.

Ives has entered an on-line video contest which looks at his family's racing history. And you have the next three weeks to vote for him on the company's web site.


There are around 1,000 videos on the web site www.alwaysachampion.com.

The 15 that get the most "votes" by February 2nd, will win $5,o0o each. Then, there will be a new round of voting amongst those 15 finalists, and by the end of March, somebody will get $50,000.

You can help by going to the web site, registering, and voting. You can vote once every day, and you might win some small prizes from Champion Spark Plugs as well.

Ives says he would use the money to make improvements to his #18 car, a Monte Carlo SS with a Pathfinder chassis. It would also help with entry fees and travel to races.

"I'm thankful to Champion to give the chance for drivers like me to win a sponsorship of $50,000 for their race teams," Ives said. "I'm thankful for all of my supporters, and just the local community for coming together and sharing my video on Facebook, and just voting for me."



Ives began racing when he was five years old, and has gradually moved his way up, becoming the youngest man to win a late-model race at Norway Speedway at age 14.

He is recovering from a leg injury that happened when his car fell on him about a year ago, leading to a rod being placed in his leg. That rod was finally removed last week.



Jordan Ives Talks About the Sponsorship Contest

Ives' video, put together by his older brother Ben, is two minutes long and looks not only at his racing career, but that of all three generations of the Ives family.

His uncle Greg was just named as the crew chief for NASCAR's Chase Elliott on Monday.

Ives plans to do a full season of racing this spring and summer. Until then, he will humor himself by racing his microsprint car on the ice of the Escanaba River as the Ice Races begin this Sunday. And then on March 30th, Jordan Ives turns 16, which means he will fiunally be able to get a license to drive on Upper Peninsula streets.

VOTE FOR DANNY, TOO---One other Upper Peninsula man has entered a video in this contest: Off-Road driver Danny Beauchamp of Escanaba. You can see his video on the same web site, www.alwaysachampion.com.

CLICK HERE to go directly to Jordan Ives' video, register, and vote!
CLICK HERE to go directlty to Dan Beauchamp's video, register, and vote!

Click the thumbnails in the ARTICLE HIGHLIGHTS to see video clips from Ives, and to listen to an audio clip of his talking about this contest.