Great Lakes Ice Racing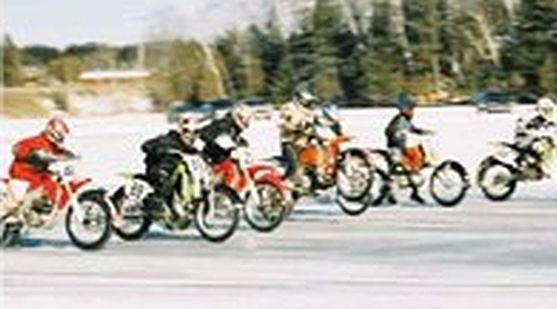 Great Lakes Ice Racing proudly features modified cycles racing on a quarter mile oval track on a frozen river. Many hours of hard work by members of our club are needed to groom the icy surface to allow bikes with special studded tires to compete in an exciting environment unlike any other.

Both studded and non-studded quads race the track and test both the riders ability to setup and race their studded ATV's as well as the finesse required to maneuver a non-studded ATV on glare ice. Also 4X4 and three wheeled machines can be seen competing in events that provide a unique racing and viewing opportunity for all to enjoy.

A Micro-Sprint car is a miniature Sprint Racer powered by a sport bike engine. High speeds and close competition complete the spectrum of racing from youngsters on mini-bikes to die hard adrenaline junkies pushing the limits of themselves and their machines to the very edge. Whether racing or viewing the races are an enjoyable event for the whole family.

For more information, be sure to visit their website!