Negaunee Drops Semifinal On Buzzer-Beater, 45-43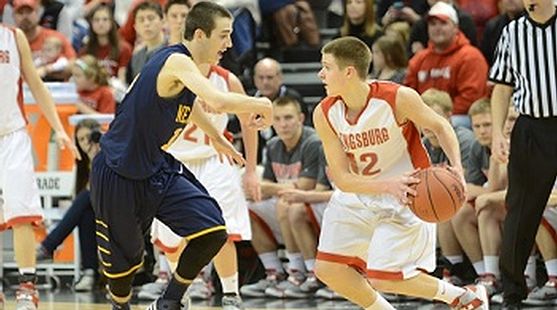 EAST LANSING, Mich.---After months of games and practices, everything the Negaunee Miners basketball team worked for came down to nine seconds on Thursday.

With the Class C state semifinal game against the Laingsburg Wolfpack tied at 43-43, the Miners had the ball in the hands of their "money" player: Tyler Jandron. But the Class C All-State First-Team selection came up short with his jump shot.

Then fate, and the ball bounced, in the other direction and the Wolfpack scored at the buzzer to stun the Miners, 45-43, at Michigan State University's Breslin Center. The boys were stunned, heartbroken, and almost speechless after losing the buzzer-beater.


Negaunee's Tanner Uren dribbles during Thursday's game. (Paul Gerard photo)

"It's a tough way to lose, obviously," Negaunee Coach Mike O'Donnell said. "As a coach, you think you're in the position that you want to be in. Tie game. Thirty seconds to go. Have the ball. But it just didn't work out for us."

After Jandron missed his shot, the rebound fell to Wolfpack Jake Zielinski below the basket.

He sent a long pass to a streaking Zach Walker, who almost fell out of bounds as he got the pass on the bounce. Walker got it to Shaun McKinney, who scored with less than one second left to send his team into the state final against Flint Beecher.

O'Donnell could only shake his head after that play unfolded.

"An unfortunate bounce off the miss there," the coach said. "Their kid made a great play to get his hand on the ball on that outlet pass. And then he has the prescence of mind to make the dump-off pass. It was a great basketball play for them."

Said Jandron, of his shot that wouldn't fall in the closing seconds?



Tyler Jandron comments.

"That's usually my shot, too, coming down the middle of the lane," Jandron said. "I've been hitting those all year long. It was just a tough shot right there.

"I seen Tanner (Uren) open in the corner, (but) I thought I had it."

Much of the game was ugly, from an offensive point of view. The Wolfpack led, 9-6, after one quarter, and took an 18-14 lead into the halftime break. Laingsburg shot 25.9% in the first half, and Negaunee checked in at 28.6%.

The Miners finally got going in the third quarter as Tanner Uren and Eric Lori each made three-point baskets. Negaunee took a brief lead late in the quarter.


Negaunee's Eric Lori gets a pass, then shoots a three. (Paul Gerard photo)

"We finally played our game," Uren said. "We woke up and said 'hey, we're here, and we're gonna get back in it'. We had our chance there, but we had a bad bounce."

Negaunee , however, trailed by five points (43-38) with less than two minutes left in the fourth quarter. Jandron drained a three with 1:39 left, and then Uren tied the game with a hoop with 1:08 left. That set up the final, fateful, few seconds for the Miners.

"There's not much you can say in the locker room," O'Donnell said. "After such a fun, exciting, successful season. And then to lose like that? It's just a tough way to lose."

Negaunee got nearly half of its points on three-pointers, making seven of 21 shots from beyond the arch. Lori had three of the three's, while Uren and Jandron each had two.

"It was definitely a bigger stage than I thought it would be," Uren said about playing at the Breslin Center. "But at halftime, all of those jitters were gone."

The Miners finished the season with a 24-2 record. Uren led the team with 16 points, Jandron scored 12 points, and Lori added nine. Zielinski had 18 for Laingsburg.

CLICK HERE to see all of the game's statistics and play-by-play recap.

Photo credits: top and bottom pictures courtesy of the Michigan High School Athletic Association. Read the MHSAA's "Second Half" coverage HERE . Middle photos courtesy of Paul Gerard (Grandpa Camo). See many more of his photos from the game HERE .

Pictured at top of story: Laingsburg's Zach Walker (12) looks for someone to pass to as Negaunee's Tyler Jandron plays defense.


Laingsburg's Shaun McKinney with lay-up. Negaunee loses a heartbreaker. (MHSAA photo)