It's Madness! Braves Win Improbable District Title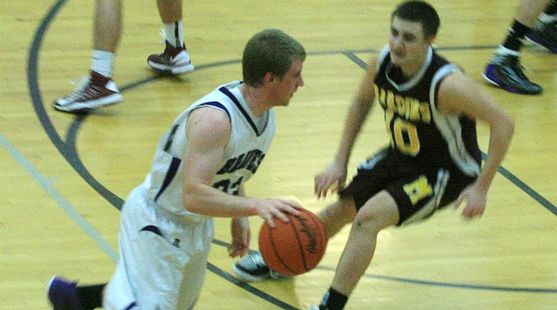 GLADSTONE---If Monday night's upset win over the Kingsford Flivvers wasn't enough for Gladstone Braves basketball fans, Wednesday night's game against the Menominee Maroons surely filled their appetite for excitement.

The Braves rallied from eight points down to stun the Maroons, 64-61, in overtime, to win an improbable Class B district championship. A team that had endured a seven-game losing streak during the regular season now suddenly had some hardware, and a berth in next week's Class B regional basketball tournament in downstate Grayling.


Jared Hunter (34) defends Bryan Hines (4).

"It feels great," Gladstone Coach Phil Griebel said. "I got to do it as a kid in 1985. These kids are going to really enjoy it, and remember it the rest of their lives."

"I think everyone in the locker room before the game was confident," Braves senior Jared Vuksan said. "Everyone felt relaxed. Nervous, but not overly nervous. We knew that we were going to have a big game tonight, and we did."

And Griebel says he's proud that his kids never gave up during the rough stretches.

"It's hard," Griebel said. "People say that it's just a game, but it takes its toll on you when your're losing. It can be hard to even come to practice. But the kids kept coming, kept listening, and the last couple of games, they bought in to what we were preaching."

There were many times in this game when the Braves could have given up, too.



But sometimes, when you live by the three, you can also lose by the three.

Gladstone led, 13-10, in the first quarter before the Maroons scored ten straight points to take control of the game.


Gladstone's Michael Cretens (20) drives on Menominee's Travis Champeau (10).

Travis Champeau nailed a pair of "nothing-but-net" three's, and Bryan Hines, Jared Rivard, and Devon Harris also had long ones during that first half. Menominee took a 28-20 lead into the halftime break.

But the Braves had plenty of fight left in them. They were buoyed in the second half by an extremely loud student section, which got the rest of the Braves fans going. GHS senior Nate Bellville ran the baseline and sideline, getting the wave started at times.

Gladstone pounded it inside to senior Jared Vuksan, and he responded. He scored 13 of his game-high 26 points as the Braves made their comeback.

"I was excited," Vuksan said. "Every time I got the ball in the post, I either got a good drop-step move on them and got a bucket or drew a foul. Or, I got a 'kick-out' to one of our shooters and they would get a good shot."

Vuksan's basket and foul brought Gladstone to within 32-30, but Hines drained a three to make it 35-30.



Blake Ballard Hoop and foul.

The Braves were behind, 39-32, before going on a eight-point run, capped off when Blake Ballard went coast-to-coast for a basket with 2:29 left in the third quarter.

Twice the Braves took leads only to see Champaeau nail long three-pointers.

And so it was tied in the final two minutes when Vuksan made a free throw to put Gladstone ahead, 52-51.


Jared Vuksan concentrates on a free throw.

Champeau countered with two free throws to put Menominee back on top, but Ballard came back with a basket and foul to give Gladstone a 55-53 lead. The Maroons tied it on a pair of Hines free throws with 1:14 left, and neither team could score again in regulation time.

And early in overtime, it looked like Menominee would gain control when they made five of six free throws on their first four possessions.

Menominee (10-12) led, 60-57, with 1:12 left. But the Braves turned up the defensive pressure. Vuksan attacked the basket, got fouled, and managed to make one of his two foul shots.

Then after a steal, Michael Cretens got fouled and he made one foul shot. Trailing 60-59, the Braves caught a break when there was contact between Harris and Hunter on the inbounds play.

The ball was on the floor, sophomore Justin Jurek found it and shoveled it to Hunter for the basket to give Gladstone the one-point lead.



Hines was fouled at the other end and made one free throw to re-tie the game. The Braves did not call time out. Instead, they ran their play and Ballard found Hunter all alone on the baseline for a huge basket to make it a 63-61 Braves lead.


Here is a Battle on the Boards Wednesday.

"Blake's our point guard, so I knew that if he had the ball that they would double or triple-team him," Hunter said. "As soon as they did, I slipped 'back door' and he had a great pass. It feels great!"

The Braves made it all happen with a quick change of defensive strategy.

"We've practicing our 'run-and-jump' (defense) all season, and I didn't plan on using it tonight and we were in the zone the whole game," Griebel said. "But we did it, and the kids did it to perfection."

"Coach wanted us in the 1-3-1 halfcourt trap, but with time winding down, and the game so close, we needed a rip," Hunter said. "So we went to the full-court 'man', and we just went hard and we got the two turnovers back-to-back."

Menominee had 20.3 seconds to work with, and got it to Rivard for the potential game-winning three. He missed, and with 3.9 seconds left, Cretens was fouled and could have put the game away with two free throws.



But Harris's desperation bomb at the buzzer clanked off the rim, and the Gladstone Braves enjoyed a wild celebration that was unthinkable even just one week ago.


ave Dykowsi (left), Devon Harris (20), Jeremy Rivard (34) and Justin Jurek (32) all go for the ball during this play.

"It was looking pretty bleak there when they had the three-point lead," Griebel said. "But we got a couple of steals and a couple of put-backs. It was absolutely crazy."

"I had a lot of energy tonight, and I spent it all out on the floor," Vuksan said.

Menominee ended up making ten three-point baskets, and the Braves got just one.

"They just kept making them, and I was getting a little frustrated," Griebel admitted. "They're such a good team. We needed them to miss a few, and they finally did."

Menominee made 17-of-22 free throws, while Gladstone hit on just 13-of-28.

But the difference was the inside game, where Gladstone had seven "and-one" chances.

Vuksan led the way with 26 points while Cretens chipped in with 12 and Ballard scored 11. Hunter had eight, including the four big ones in overtime. Max Mahoney played a strong defensive game and contibuted six points from along the baseline.



Radio call of the game's final play.

Rivard led Menominee with 18 points, while Champeau scored 14 and Hines scored 12. The Maroons made just one two-point basket in the entire second half and overtime.

Gladstone (11-11) advances to the Class B Regional Tournament in Grayling next week.

The Braves will play Monday night at 7:30, against either the host Vikings, or West Branch Ogemaw Heights. Those two teams will face each other Friday night in a district final in West Branch. The Gladstone game will be broadcast live on WCHT-AM (600), and on-line at www.rrnsports.com.

Click the thumbnails in the above ARTICLE HIGHLIGHTS box to see videos taken by Mike Dagenais, photos taken by Ron Jurek, and listen to audio highlights and interviews from the game.


Senior Jared Vuksan (50) is on one leg, but gets the clutch rebound for the Gladstone Braves.