Eskymos Top Flivvers To Open Hockey Season, 3-1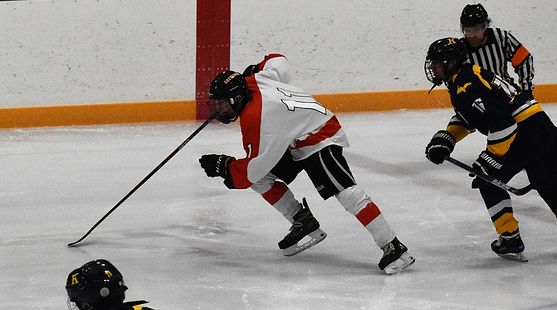 Click the tumbnails to see photos, videos taken by Bill & Micky LaMarch. Also click the AUDIO buttons to hear Karson Krutina's player spotlight interview, and three star interviews with Kritina, Sawyer LaMarch, and Riley Stannard. Also listen to radio replays of goals by Krutina and LaMarch.

ESCANABA---The Escanaba High School hockey team scored two goals in the first 80 seconds of the game Tuesday night and cruised past the Kingsford Flivvers, 3-1, in the season-opener at the Wells Sports Complex.

"The boys were playing good, hard hockey tonight," Escanaba's new head coach Andy Johnson said. "We were flying, getting chances. We started getting tired toward the end of the first period, and then they picked it up in the second. Then we just held them through the third. But I keep telling them, it's going to be an uphill battle when we get into penalty trouble."


Captain Karson Krutina assisted on freshman Riley Stannard's first Eskymo goal just 28 seconds into the game, and then scored a goal of his own at the 1:20 mark when he flung one past goaltender Isaiah Anderson from long range.

"I was pretty nervous going into it," Stannard said. "I had the shakes, shaking pretty good. I went down (the ice), seen Krutina down in the corner. Put my stick down, called for it, and before I knew it, it was in the back of the net."

"I was going the ice and chipped the puck," Krutina said. "Just got behind the D, and I didn't have enough room to shoot. Went around the net and, backhand out in front, and he (Stannard) buried it."

"He's ready now for high school hockey, for sure," Johnson said of Stannard.

The Eskymos scored their third goal in the second period when Jayger LaMarch took advantage of a turnover and rifled it past Anderson.

But Escanaba spent most of the third period on the penalty kill, including a five-minute major penalty assessed to defenseman Gunner Bourdeau.

The Eskymos effectively killed off most of that penalty with no shots against, but then Krutina was called for interference, giving Kingsford a five-on-three power play for 33 seconds.


That's when Sawyer LaMarch, normally a centerman, stepped up to singlehandedly kill off that penalty on his backcheck, and eventually drew a penalty from Hart DeBidart to cancel the rest of Krutina's penalty.

"We have a short bench, and we started taking penalties," LaMarch said. "We got to the point where we had three D, and one was on the bench, and six foward, and three were on the bench. And so I just knew I had to come forward and stay out there."

"It was tough, LaMarch continued. "I mean, down 5-on-3, with a five-minute major? It's tough on the body but you've got to do everything you can do to block shots. I put in some hard work there when it was 5-on-3 just to take away some time, and give my defense some help. Then they just started getting lazy, and slashing me and hooking me, and then I finally got one (Kingsford penalty call)."

"When I gave him the #1 star of the game, I called him the Mr. 17-minute shift," Johnson said. "We can't have Gunner in the box. He's such a big part of this team on the back end. We need him on the ice as much as possible, helping this team keep shots away from our goalies, keep pucks out of our defensive end. We need him to stay out of the box. He knows it."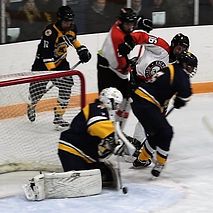 Kingsford eventually scored an even strength goal by freshman Jacob Crockford with 7:45 left in the game, but the Flivvers couldn't generate much offense. The Flivvers couldn't even get possession long enough in the final two minutes to pull their goaltender for an extra attacker.

Escanaba outshot Kingsford, 32-17, with senior Eskymo goalie Dylan Ziemke turning away 16 shots. Anderson stopped 29 for Kingsford.

The Flivvers entered the game with nine freshmen on the roster. The Eskymos, meanwhile, have just 12 skaters and two goalies.

A player on last year's team, Kobie Petrich, is playing for Manistique's new co-op team, and Brayden Martineau is out with a shoulder injury.

It was also a first win behind the bench for Johnson, the Eskymo alum who played goaltender for the Orange and Black, and served as an assistant under five different head coaches. He took this job after Matt Hughes stepped down as head coach earlier this year.

"I told the boys I was 0-2 coming in because I stepped in as head coach before and lost twice," Johnson said. "But I got my first win. We're happy. The boys are happy. And now we can start rolling here."

Escanaba (1-0) travels to Houghton Friday night to face the Gremlins. Face-off is 7:00. It will be broadcast on WCHT-FM/AM (93.5/600) and on-line at www.rrnsports.com.

Kingsford hosts the new Manistique team on Thursday. That game can be heard in Manistique on WTIQ-FM/AM (98.5/1490) starting at 6:50 ET.