NCA Jets Dominate Eight-Man All U.P. Selections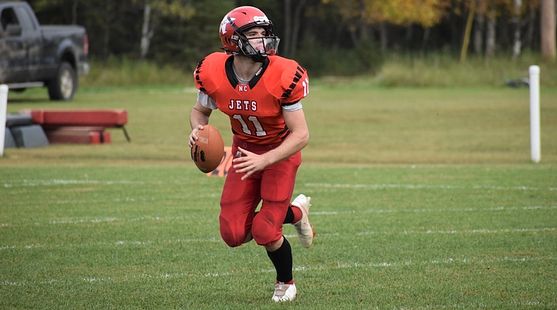 MARQUETTE---The Upper Peninsula Sportswriters and Sportscasters announced their All-U.P. 8-Man football teams Monday evening. A panel of 16 people met at the Marquette Holiday Inn last week to come up with this list.

The Team of the Year went to the defending state champion North Central Jets, who went undefeated and mercied every opponent they played.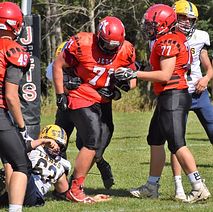 The vote was unanimous.

The Coach of the Year went to NCA's Leo Gorzinski on an 11-4 vote over Forest Park's Brian Fabbri. The Offensive Player of the Year honors was given to NCA quarterback Luke Gorzinski, also on a unanimous vote.

The Defensive Player of the Year award went to NCA lineman Wyatt Raab on a 9-6 vote over Newberry's Johnny Nutkins. Raab was also a unanimous Dream Team selection on the line. The Lineman of the Year award went to NCA's Lane Nehring on an unanimous vote, He was also a Dream Team offensive lineman.


The Hybrid Athlete of the Year award ended in an 8-8 tie between Ewen-Trout Creek's Jaden Borseth and Rudyard's E.J. Suggitt.

In all, NCA had five players on the Dream Teams, including placekicker Jaden Walters. Ontonagon and Norway both had three Dream Team players. NCA's Alex Naser won two awards: Dream Team return specialist and First Team wide receiver.


Rapid River receiver Carter Johnson was Dream Team selection on near-unanimous vote. Rockets lineman Damyn Smith was a First Team selection as a lineman, also on a near-unanimous vote.

Superior Central quarterback Zach Frusti was the First Team Hybrid Athlete of the Year, and the Cougars' Lucas Swetich (defensive back) and Ben Molag (punter) were also First Team picks.

The teams full listing is posted below:

EIGHT MAN DREAM TEAM OFFENSE
Quarterback: Luke Gorzinski, North Central
Offensive Line: Lane Nehring, North Central
Offensive Line: Timmy Bendick, Forest Park
Running Back: Josh Sullivan, Pickford
Running Back: Sam McKissack, Forest Park
Wide Receiver: Carter Johnson, Rapid River
Wide Receiver: Eric Edwards, Newberry
Hybrid Athlete: Jaden Boresth, ETC, and EJ Suggitt (Rudyard)

EIGHT MAN DREAM TEAM DEFENSE
Lineman: Wyatt Raab, North Central
Lineman: Mason Totzke, Ontonagon
Defensive End: Micaiah Peramaki, Munising
Defensive End: Eric Abramson, Ontonagon
Linebacker: Chase Carlson, Norway
Linebacker: Johnny Nutkins, Newberry
Defensive Back: James Milkey, Lake Linden-Hubbell
Defensive Back: Tate Resteman, Rudyard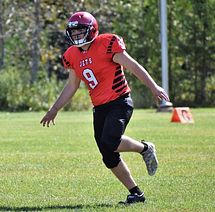 EIGHT MAN DREAM TEAM SPECIAL TEAMS
Kicker: Jaden Walters, North Central
Punter: Aiden Richards, Norway
Return Specialist: Alex Naser, North Central

EIGHT MAN FIRST TEAM OFFENSE
Quarterback: Connor Rintamaki, Newberry
Offensive Line: Devon Groleau, Stephenson
Offensive Line: George Edington, Pickford
Running Back: Justin Matusewic, Ironwood
Running Back: Ben Tampas, Lake Linden-Hubbell
Wide Receiver: Alex Naser, North Central
Wide Receiver: Jesse Duran, Munising
Hybrid Athlete: Zach Frusti, Superior Central


EIGHT MAN FIRST TEAM DEFENSE
Lineman: Kirby Koskela, Lake Linden-Hubbell
Lineman: Zach Burton, Newberry
Defensive Line: Damyn Smith, Rapid River
Defensive Line: Zach Burton, Newberry
Defensive Line: Brayden Altoft, Pickford
Linebacker: Maximus Mattson, North Dickinson
Linebacker: Jacob Mattson, Munising
Defensive Back: Marco Juarez, Newberry
Defensive Back: Lucas Swetich, Superior Central

EIGHT MAN FIRST TEAM SPECIAL TEAMS
Kicker: Jacob Nolan, Rudyard
Punter: Ben Molag, Superior Central
Return Specialist: Matthew Rahilly, Newberry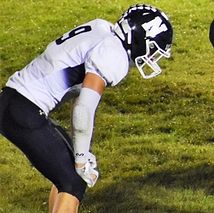 EIGHT MAN SPECIAL MENTION (2 or more votes)
Quarterback: Blake Lundquist, Rapid River
Offensive Line: Ashton Wymer, Munising
Running Back: Josiah Peramaki, Munising
Running Back: Cam Peterson, Rudyard
Wide Receiver/Defensive Back: Aiden Bickel, Rudyard
Wide Receiver/Defensive Line: Marcus Sutherland, Lake Linden-Hubbell
Linebacker: Cason Smith, Cedarville
Defensive Back: Nico Giblina, Stephenson
Defensive Back: Cody Dabb, Ironwood

EIGHT MAN HONORABLE MENTION
Quarterback: Spencer Coldrun, Stephenson
Quarterback: Zach Harrison, Pickford
Quarterback: Peyton Imhoff, Carney-Nadeau
Wide Receiver: Carter Tietz, North Central
Offensive Lineman/Defensive Lineman: Nathaniel Barnes, Carney-Nadeau
Offensive Lineman: Troy Corrigan, Lake Linden-Hubbell
Offensive Lineman: Canaan Elson, Stephenson
Offensive Lineman: Drew French, Engadine
Offensive Lineman: Max Nason, North Central
Offensive Lineman: AJ Richmond, Superior Central
Offensive Lineman/Defensive Lineman: Joe Smith, Rapid River
Defensive Lineman: Ean Brady, Rudyard