Norway Rolls To Win Over Banged-Up Rapid River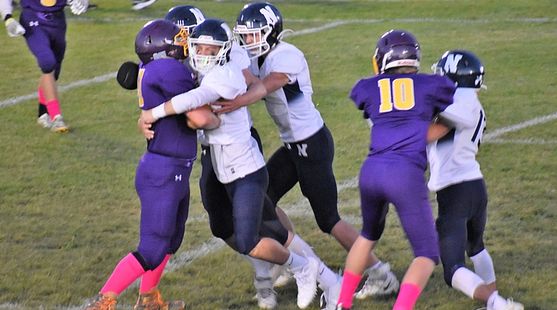 Click the thumbnails to see photos and video highlights, hear some radio calls from the game, and listen to interviews with both coaches. Also listen to the player spotlight interview with Rockets seniors Joey Smith and Mason Lippold.

RAPID RIVER---The Norway High School football team kept its slim playoff hopes alive Thursday night by powering past the Rapid River Rockets, 76-18, in Rapid River.

The Knights led from start-to-finish and improved to 4-4 on the season, and will need a win next week and a lot of help to have a Week Ten.

"It's a long shot," Norway Coach Scott Popp said. "The biggest thing is to just get out of here healthy."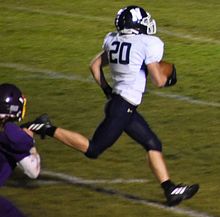 The Knights did that, for the most part, unlike the Rockets, who lost Brad Taylor (who had a great first quarter on special teams) and lineman Hunter Johnson to nearly identical injuries.

Both left the field with trainers and coaches walking with them, holding their necks steady to make sure there was no movement.

Rapid River fell to 2-6, but Coach Steve Ostrenga, in his 31st season of coaching, says this group of just 14 players has given him everything they had.

"That's all I can ask for," Ostrenga said. "I know it's cliché, but we could have folded up the tents and we didn't do that. This group has had great leadership, great work ethic, week in, week out. We've looked at the adversity."

There was a lot of adversity courtesy of a Norway offense that did pretty much what it wanted to do. Eastyn Dwight scored on touchdown runs of four and 50 yards, and Gabe Hautamaki scored on touchdown runs of 20, 35, and 49 yards.

The only pass that quarterback Michael Peterson completed was a 35-yard touchdown pass to a wide-open Kyle Napientek. And on special teams, Austyn Dwight returned a punt 69 yards for a touchdown (after initially fumbling it), and he later scored on a 67-yard kickoff return. Plus, he intercepted a pass.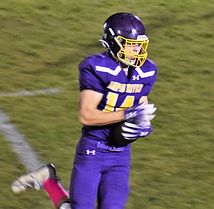 A highlight for Norway, no doubt, was big lineman Isaac Lorenzoni taking it to the house 32 yards on a TD run that included a nifty cut between the hashmarks.

Norway finally got senior Nolan Amundson back in the lineup, albeit only on defense, and that with a huge black "club" on his right hand to protect a broken thumb.

"And that was in Week One," Popp said of his parade of injured players. "Then in week two, it was a broken collarbone. Week three, another broken collarbone. Week four, it's a torn hamstring. Every week, it's just been adding up and adding up."

The Knights also lost three close games this season, including last week's overtime loss to Stephenson at home that put Norway at the edge of playoff extinction.

This night, though, Norway led 64-18 at halftime and the running clock was in play throughout the entire second half.

For Rapid River, sophomore quarterback Blake Lundquist hooked up with junior receiver Carter Johnson on touchdown passes of 56 and ten yards. In all, Lundquist completed 10 of 22 passes for 166 yards. Seven of those completions were to Johnson.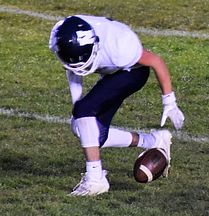 Rapid River also scored a touchdown on an excellent 64-yard kickoff return by Taylor, just before he left the game with an inury on defense.

For Norway's Hautamaki, all three of his carries went to the house, for 104 yards. Eastyn Dwight had 88 yards rushing, and Wyatt Spade added a 39=yard touchdown run in the second half. Nepientek also scored on a ten-yard touchdown run.

Norway plays North Dickinson in its season finale, while Rapid River will close its season against rival Superior Central.

Which leads to the question: will Ostrenga be back for a 32nd year on the Rapid River sideline, or will the game against the Cougars next week be his last one?

"It's year-to-year," Ostrenga said about continuing to head the Rockets program. "I have to be honest, I want to see the investment in the kids. I guess I'm looking for that. I ask the kids, 'do you want me to coach or not' because if you're not coming out for the team because of me, then I'll be done. But they (kids who did not play this fall) assured me that it wasn't, but I guess we'll find out. If the numbers come up, then we'll see."