Ridl, Mullen Power Marquette Past Braves, 43-12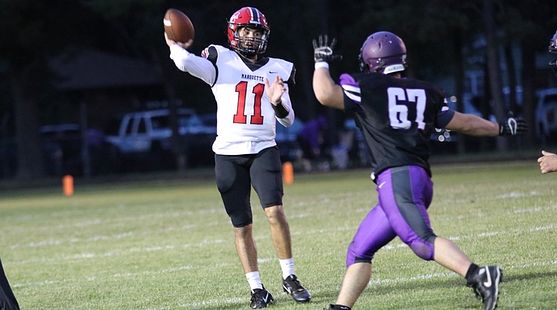 Click the thumbnails to see videos taken by Brad Landis and photos courtesy of Gladstone Braves Athletics. Also hear post-game comments from Gladstone Coach Jeff Hansen, hear player interviews with Sasha Olsen and the Potier brothers. Also hear radio replays of two of Marquette's touchdowns.

GLADSTONE---The Marquette Redmen improved to 3-0 in the Great Northern Conference Friday night with a 43-12 win over the Gladstone Braves on Braves Homecoming. Senior quarterback Austin Ridl was efficient, completing 13 of 21 passes for 178 yards, three touchdowns, and no interceptions.

Running back Demond Mullen ran for 76 yards on 11 carries and had two touchdowns called back on penalties before he scored a pair of rushing touchdowns, on runs of five and 35 yards.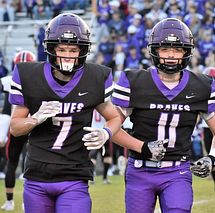 In all, Marquette had 418 yards of total offense. Gladstone had 246, with 143 of those coming on two fourth quarter touchdowns against mostly Marquette back-up players.

Marquette took the opening kickoff and drove 62 yards in nine plays.

A Mullen touchdown run was called back on a holding penalty, but on 3rd-and-17 from the Braves 28, Ridl found Owen Beauchamp on a slant for 13 yards, then on fourth down, Ridl passed to a wide open Justin Jurmu for a 15-yard touchdown.

Trailing 6-0, Gladstone had a scoring chance as sophomore Nate Young engineered a drive into the red zone. Young, playing in place of injured captain Cam Kelly, squirted free for an 18 yard run, and then junior Cole Potier broke loose for a 16-yard run to the Marquette 14 yard-line.

The Braves drive sputtered, however, as Young was stuffed on three straight runs, and then heaved a desperation 4th-and-16 pass out of bounds.

In the second quarter, Ridl found David Eberhard open for a 26-yard pass and eventually threw to Beauchamp for a seven-yard touchdown up the middle.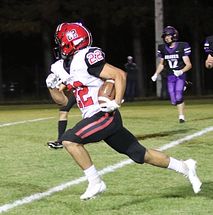 A Rayland Kohler 24-yard field goal made it 16-0 at halftime.

The Braves got the ball to start the third quarter, down by two scores, but Young was pressured and threw an interception on the first play.

The Braves held on defense, but went three-and-out from deep in their own territory on offense.

It took only four plays for Marquette to cash in, with Eberhard going 33 yards on a reverse to the five yard-line and Mullen scored on the next play to make it a 23-0 game.

The next time Marquette got the ball, it was another 69-yard drive, capped by a 25-yard touchdown pass from Ridl to Eberhard.

That made it 30-0 (after another Kohler PAT kick) and the Redmen scored again after Potier was stripped on the next series. That fumble was at the Gladstone 37, and after Mullen broke off a 35-yard run, Nate Benninger rushed from two yards out to set off the mercy rule.

The Braves, down 37-0, didn't quit. Young found a wide-open Michael Brazeau along the near sideline and he went untouched 50 yards for the score.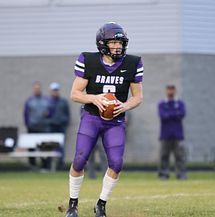 Marquette's Beauchamp replied with a 35-yard touchdown run to make it 43-6, before Young ran 72 yards for a Braves touchdown with 20 seconds left in the game.

That run put Young over 100 yards rushing for the game (115 on 19 carries) but it was otherwise tough sledding for him in his first varsity start. He completed 6 of 11 passes for 77 yards, again, with 50 of those coming on that late TD pass to Brazeau.

Potier had 52 yards on 11 carries for the Braves. Dustin Lohfink had 52 yards on six carries for Marquette.

The top-ranked Redmen improved to 4-1 and will host Clare next weekend.

Gladstone fell to 2-3 and will travel downstate to play Elk Rapids next Frdiay night.