ROLLING ALONG: Defending Champs Win Again

Click the thumbnails to see photos and videos, and to see post-game comments from Wyatt Raab and hear post-game comments from Luke Gorzinski.

POWERS---Last year when the North Central Jets and Lake Linden-Hubbell Lakes met in the Copper Country, it was NCA's toughest game until the state championship game.

The Jets, ravaged by COVID-19 quarantines, held off the Lakes that day, 34-22, on a nasty weather day in the Keweenaw.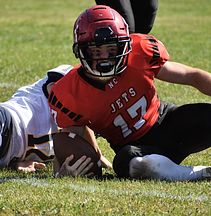 Fast forward to 2021, and the result was not nearly as dramatic.

The Jets on Saturday did whatever they wanted, whenever they wanted, and dominated the Lakes, 65-0, at the North Central field. And the result could have been far worse for the Lakes had NCA Coach Leo Gorzinski played his starters, or even his second stringers, the whole game.

Even the junior varsity third stringers put in with 5:27 left in the game scored a touchdown with ease as the Jets improved to 4-0.

"Well, we were watching their film against Norway and they were a little vulnerable to the run, so I had good blocking in front of me and it set up perfect," quarterback Luke Gorzinski said. "They (offensive linemen) were phenominal. They're phenominal in practice and in the game. Every time, they bring it, they bring it, they bring it.. I couldn't be prouder of these guys."

"We all played really well, I feel good," senior running back Wyatt Raab said. "Everybody was firing on all cylinders. The D-Line was killing it. The O-Line was making their blocks, and Luke had an awesome game, as usual."

The Jets scored at will in the first half, with no "drive" going more than three plays. Luke Gorzinski scored on a 19-yard touchdown run, then it was Wyatt Raab from 23 yards out, then Gorzinski from 41 yards out, them Alex Naser from nine yards out.


Naser scored another touchdown from 13 yards out, and just two minutes into the second quarter, it was 34-0. The only negative for NCA, perhaps, is that they only made two of the first five two-point conversion attempts on those touchdowns.

Raab caught a 30-yard touchdown pass from Gorzinski in the second quarter to make it 40-0, then big senior lineman Lane Nehring was given the ball and he barreled his way into the end zone for the two-point conversion.

In the third quarter, the starters did not play at all on offense, only seeing the field on defense. Brent LaBonte completed a 20-yard touchdown pass to Owen Eichmeier, and then Dillon Raab broke off a 30-yard touchdown run.

Coach Gorzinski then pulled his reserves in the middle of the fourth quarter, letting the junior varsity kids have the field. And they put a touchdown on the board as Jake Gorzinski scored a touchdown and added the two-point conversion to make it a 65-0 final.

Another bright spot for NCA was Jaden Walters making an extra point kick in the second half.
Lakes quarterback Danny Marcotte was hit hard throughout the contest, and to his credit, he kept getting back up. The Lakes were held to just 64 yards of total offense on 47 plays.

It was quite a shock for the Lakes (2-2), who had won their games against Rapid River, 60-6, and Gogebic, 42-8, to open the season. They lost to Norway, 40-8, in week three, and they were simply no match for the defending state champion Jets on Saturday.

NCA (4-0) had 388 yards of total offense. Luke Gorzinski had 120 yards rushing on six carries, scoring two touchdowns. He also completed both of his pass attempts for 55 yards and another touchdown.

The Jets host Rapid River next Friday night at 6:00 CT.