Graphos, Demers Lead Emeralds Past Gwinn, 24-16

Click the thumbnails to see photos and videos, and hear interviews with Manistique Coach Todd Kangas and quarterback Parker Graphos.

MANISTIQUE---The Manistique High School football team took a 16-0 first quarter lead and held on to beat the Gwinn Model Towners, 24-16, Thursday night in Manistique.

Parker Graphos had two touchdown runs and intercepted a pass, and Wyatt Demers intercepted two passes. The Model Towners committed five turnovers, but stayed close because the Gwinn defense stopped the Emerald offense three different times inside the ten yard-line.


"We're fortunate," Manistique Coach Todd Kangas said. "We're a little banged up. We were out three starters, and a few of our guys were banged up during the course of the game. We were doing our best to hold it together there, and to our guys' credit, we made enough plays to do it."

"We had a lot of open holes, and we were able to capitalize on mistakes," Graphos said. "We had a lot of interceptions and we capitalized on them and put points on the board. Our confidence is definitely going to be up after this one."

"That was a good team that we just played and just beat. So, I think we're ready for next week."

Graphos broke free for a 42-yard touchdown run on the Emeralds' first posession, and he ran in the two-point conversion. When Gwinn got the ball back. defensive pressure on quarterback Carl Peterson led to a bad throw and an interception by Wyatt Demers. Demers too it to the house 58 yards for a pick-six touchdown. The two-point run made it 16-0.

On Gwinn's next posession, Demers got another interception and returned it deep into Model Towner territory. The Emeralds had four plays from the four yard-line to try to buld a 20-0 lead but the Gwinn defense stiffened. The goal line stand kept Gwinn in the game.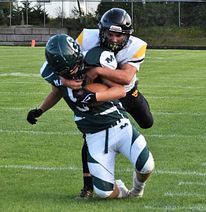 The Model Towners went on a 96-yard drive, stretching well into the second quarter. Peterson scored from 14 yards out, and then his two-point pass cut the deficit to 16-8.

It stayed that way deep into the fourth quarter. The Emeralds had a chance to put the game away, but were stuffed inside the Gwinn ten yard-line after a Graphos touchdown was called back on an illegal motion penalty. But the Manistique defensive pressure on Peterson came through as he tried to engineer another 96-yard drive to try to tie the game.

Peterson got pressured by Nick Thayer blitzing from his right, and as Thayer closed in on a sack in the end zone for a safety, Peterson made a desperate throw that was intercepted by Alex Noble at the two yard-line. Two plays later, Graphos pounded it in with 1:29 to play.

Gwinn still did not give up. They overcame a 4th-and-26 situation with a couple of Manistique penalties, and then got on the board on a determined touchdown run by Conner Dupras. He broke several tackes and a spin move got Dupras in the end zone with 9.7 seconds left.

Gwinn needed the two-point play to stay alive and got it, but the chance for a miracle ended when Manistique's Cale Dykes recovered the on-side kick. Manistique went to a knee.

Manistique (1-1) travels to West Iron County next week. Gwinn (0-2) visits L'Anse.