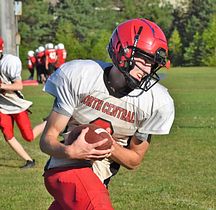 This year's Jets have many of the pieces returning, led by All-State quarterback Luke Gorzinski, running back Wyatt Raab, and wide receier and return specialist Alex Naser.

They'll be without eight seniors who graduated after last season, but the Jets will be bolstered by the return of 270-pound lineman Lane Nehring who played in Ohio last year.

"It's great to be back," Nehring said. "Obviously, we've been winners since I've been here and we won a state championship. Hopefully, we can repeat that again. It's great to be back because I want to win a state championship."

Raab, who was literally unstoppable in the state championship game last season, says he's ready to step it up even more this season.

"I'm looking forward to it," Raab said. "I did a lot of work this summer for wrestling and football. It's going to be good. We had a lot of kids who didn't get the opportunity to get the playing time that they should've because they had people in front of them. But a lot of people are going to step up this year and do great things."

For Naser, this season is personal. He was "contact traced" by being a close contact to a positive coronavirus test just before the team was headed to Brighton. He was one of several Jets who had to miss the state championship game. Naser had to watch on TV.

"That kind of pushed me a little more to get into the weight room (in the off-season)," Naser said. "Just to get more excited for the year because it's my last year. It's time to give it my all. I'm excited. We lost a little bit of talent. But we'e got some coming back and some underclassmen are stepping up. I'm excited to see how the year's going to go."

Jets Coach Leo Gorzinski is back for his fourth season as the head coach, after navigating shutdowns, seemingly endless restrictions, testing, masks, and still bringing home a state championship to Menominee County. He calls last season "gut-wrenching".

"We just hope that's all past us and let's focus on football again," he said. "The thing that people don't see, the outsiders, they don't understand all of the emotion that goes into it. It broke some our hearts sometimes, especially some of our seniors, when you just don't know if you've played your last game or nor."

Gorzinski says that the boys are taking nothing for granted this season, and are prepared for what he hopes will be another successful season. He says that almost immediately after winning the state championship back in January, many of the guys were back in the weight room.

"They've put in the work," he said. "We expect a lot of the same stuff (from last season) but it's going to be a little different style. We've gotten a little bit bigger and stronger than we have been in the past, versus quick and fast. But we intend to do what we do best."

"It feels great to be back," Naser said. "Last year, after missing the state championship game, I'm just glad to get back on the field again."