ON TO THE FINAL FOUR: Norway Beats Tecumseh

Click the thumbnails to see pictures and videos, and listen to interviews with Landon "Donny" DeBakker, Tyler Sternhagen, and Norway Manager Scott Sternhagen

NORWAY---The Norway Minor Little League All-Stars (age 9-10) advanced to the state semifinals on Monday with a 16-7 win over Techumseh in a quarterfinal game in Norway.

Norway broke a 3-3 tie with three runs in the top of the fourth inning, then took advantage of multiple walks and errors, and had a two timely hits, in a ten-run fifth inning that all but eliminated the District 16 champions from far southern Michigan.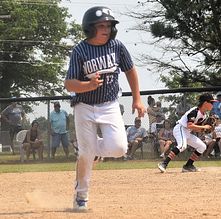 To their credit, the Tecumseh boys took advantage of Norway mistakes in the fifth inning to score four times and avoif the mercy rule. But the Orange and Black were eliminated and the Norway boys advanced to the state semifinals to play a talented Midland Northeast team.

"We were just down 1-0 and then our bats came alive," Norway manager Scott Sternhagen said. "And then we just ran the bases (aggressively), which we do. We just jumped on them and got out to a sizeable lead."

His son, Tyler, is the ace of the pitching staff. After giving up doubles to Caleb Dunigan and Ian Lajiness in the first inning, he settled down, allowing only an RBI double by Xavier Figel in the third inning.

"It was fun," Tyler Sternhagen said. "And I want to thank my catcher, Donnie (Landon DeBakker) for blocking all those balls. I was throwing a lot of strikes and throwing hard."

DeBakker, who had a two-run double that erased that 1-0 deficit, said that the boys didn't panic after falling behind at the beginning.


"The feeling (in the dugout) was just excitement and scared," DeBakker said. "But we came back and won, because we swung our bats. At first, we didn't siwing them, which we had to, but we came back and swung them."

The game was tied 3-3 in the fourth inning when Colton Lord came through with a shot down the left field line that brought in two runs. A third run scored on a wild pitch and it was 6-3.

Tecumseh starting pitcher Xavier Figel held his own early, striking out five batters and allowing only two hits. But he went through a lot of long at-bats and the Norway boys constantly ate at his 75-pitch count limit. Figel reached that in the fourth inning, and Norway took advantage of multiple free bases from the Techumseh bullpen.

Norway scored ten times in the top of the fifth to take a 16-3 lead.

With the big lead, and needing on;y three outs to win on the mercy rule, Sternhagen removed his son from the mound at 50 pitches. This was to keep him eligible to pitch on Thursday, in case heavy rains force the tournament to be extended by a day into Thursday.

It almost worked out as Norway got a grounder to first base with two men on base in the fifth inning, but an error kept the inning alive and allowed two Tecumseh runs to score. Then Jacob D'Amico and Hayes Glover followed with RBI singles to bring Tecumseh to within 16-7.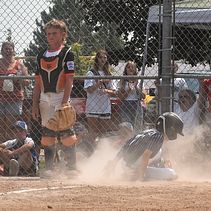 "I tried getting a little cute (with the pitching) because we know there's weather in the forecast," Coach Sternhagen said. "I figured we could get three outs, and we had three outs, but two errors, two simple plays that we make 49 times out of 50. But that's baseball."

He said he liked his team's overall performance, except taking too many called third strikes.

"We weren't happy about that," the coach said. "But once we get going, we get going. We probably left too many men on base, but hey, we are one of the final four teams."

The game was played in 90 degree heat, but the boys say they battled through it.

"It was really miserable," said DeBakker, who caught the whole game. "But as soon as you get in the dugout, you just chug a lot of water and you'll be fine."

Norway, which made the state tournament only after beating Kingsford twice in the loser's bracket in the district tournament, will now play in the state's Final Four.

They will play a Midland Northeast team which hit a home run and beat a good Western Grand Rapids team, 6-0, in another quarterfinal on Monday.

The semifinal game starts at 2:30 CT/3:30 ET. You can hear the radio broadcast on FM-94.3 and on-line at www.radioresultsnetwork.com/breeze.

The other semifinal will pit Greater Bay County againsy Kalamazoo South Portage at 5 CT.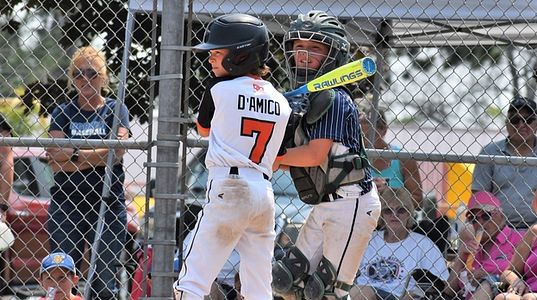 m
n