BELIEVE IT!!! Rockets Upset #1 Cedarville, 22-14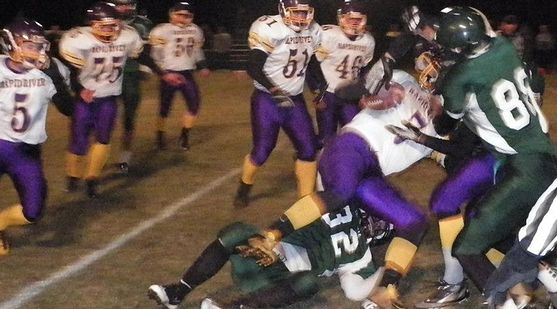 DETOUR VILLAGE, Mich.---The last time the Rapid River Rockets walked off the field after playing the Cedarville Trojans, they were battered, bruised, and humiliated.

Cedarville had delivered a dominating performance, a 72-12 whipping of the Rockets, in a game that saw several Rocket players go down with injuries. And to make matters worse, it all happened before a huge crowd on Rockets Homecoming.


Rockets win toss and defer. Good choice.

So, when the two teams met again in the MHSAA Division Nine Regional Championship Game Friday night, most people expected the state's top-ranked "eight man" team to roll into the state semifinals.

Maybe not by 72-12, but surely the Trojans, with all of their seniors, would take care of business against the visting Rockets.

But not so fast.

Rapid River played one of the best defensive games in the two-year history of eight man football, and Jake Pearson did what Jake Pearson normally does: roll up yardage and score touchdowns.

The Rockets pulled out a 22-14 upset victory that sends them into next week's semifinal against Bellaire. That game will be played next Saturday at 2:00 in Rapid River.

"There are no words (to describe) what we just did," Rapid River junior center Hayden Hardwick said, then added with a laugh. "We prepared a lot more than we did for the Homecoming game, that's for sure."



Rocket Defense Holds Trojans On Last Play of the game.

"I feel great. I've never felt better," said an emotional Rockets senior Geno Constantino, who missed most of last year's playoffs with a knee injury. "We've had some ups and downs. Team effort. We're a family.

"This is the greatest moment of my life."

And Rocket Coach Steve Ostrenga agreed with every word his boys said.

"These are special players," Ostrenga said. "It comes down to that in life, you only get so many opportunities. This was a football game. Forty-eight minutes. We asked for hard work. We asked for effort. We asked for these guys to stick together. We got all of that tonight. This is a special moment."

This game was not played in Cedarville because the Trojans' field was left unplayable by a long season of grind, and rain and snow courtesy of Hurricane Sandy. So, it was played 24 miles to the east, in DeTour, where the field was in much better shape.



Eli Orth halftime interview

And the two teams took advantage of the dry playing surface to do a lot of running. The teams threw a combined 16 passes in the entire game.

The Rockets got some early hope when on the first play of the game, Trojan star running back Kaden Barbeaux was hit by Rockets sophomore Luke Bero. The ball came out and Bero recovered the fumble.

Five plays later, Pearson scored Rapid's first touchdown on a three-yard run, then completed a two-point pass to Robert Metter for an 8-0 lead.

"That," Rockets senior Riley Pajnich said, "was a great momentum booster. I mean, from there, we were just on a roll."


Cearville's Todd Hecht is surrounded.

Trojan quarterback Bobby Krackowski sat out for disciplinary reasons, and so back-up Todd Hecht got the call. He led his team on a drive to the Rocket three yard-line, but the defense stiffened on four runs, stopping Hecht short of the goal line.

Rapid River then embarked on a 99-yard drive, with Pearson throwing one in the direction of Metter on a 4th-and-3 play from the Cedarville 26. Metter dove and caught the ball in the end zone, holding onto it as he landed.

Rapid River led, 14-0.

Cedarville managed to score a touchdown late in the second quarter on a 45-yard run by Hecht, and then in the third quarter, Barbeaux got loose for a 70-yard touchdown run. Then, when Hecht scored the two-point conversion run, it was a 14-14 game.

The Rockets had two long drives in the second half, but the bend-but-don't-break Trojan defense made big plays in their own end. Rocket drives ended on the Cedarville 30, and later, on the Cedarville 14. Both with no points. So, it stayed tied.

In the fourth quarter, the Rocket defense stood tall. The Trojans had the ball 3rd-and-1 at the Rocket 46, but Rapid River stopped Barbeaux twice. With six minutes left in the game, the Rockets were tied, and had the ball, against a team that mercied them by 60.



Jake Pearson's late go-ahead touchdown run.

And it was Pearson who got the job done, fighting for an extra yard or two here on there on every one of his carries. He was shaken up on one play, bringing back-up Josh Parrett in to hand the ball to Bero.

But moments later, Pearson returned, and make a key run on 4th-and-1 at the Ceadrville nine. And then, a seven-yard touchdown run.

Pearson hooked up with his favorite target, Metter, for the two-point play. Incredibly, the Rockets led the top team in the state, 22-14, with just 2:51 left. But it wasn't over.


Hecht had some clock-management problems on one play, and had to call time out even though the play was on a dead ball with the clock already stopped.

That would prove costly later. But first, Hecht managed to scamper for 26 yards on a 3rd-and-9 play to get the ball to the Rapid 30.

Another first down followed, but it took using two time outs to accomplish. The Trojans had 2nd-and-10 at the 19 when Hecht rushed up the middle and got seven yards, but he was tackled by Steve Johnson.

As the clock ticked down, Hecht ran to the line and spiked the ball. That made it 4th-and-3 with 13 seconds to go. Hecht found Barbeaux for the catch near the goal line, and as Barbeaux reached across the line, the ball came out and squirted into the end zone.



"This is why we do it (coaching)," Ostrenga said, as he looked down on his players celebrating on the field from inside the DeTour press box. "It's not always going to turn out like this. But when it does, all the hard work, it is so special.

"We talked a lot about character," the coach continued. "It come down to hard work, effort, and believing. And when the kids actually listen, great things can happen."


The kids were just as emotional as their coach was after the big victory.

"We just had to tackle," Constantino said. "Last time, we didn't have our lanes, we didn't tackle, no pursuit. We needed to play hard-nosed football."

"We really brang it today," Pajnich said. "We had a lot of heart. It was a team effort. It was just great."

"We had the ball for most of the game, so that was huge," Hardwick added.

Statistically, Pearson led the way with 244 yards on 39 carries and two touchdowns. He also threw for a touchdown and a pair of two-pointers, all to Metter. Bero had a steady game as well, getting 42 yards on 12 carries, keeping the Cedarville defense honest.

For Cedarville (10-1), Hecht led the way with 171 yards on 21 carries. Barbeaux had 125 yards on 15 carries. Rapid River outgained Cedarville in yardage, 319-312.

Rapid River (9-2) will host Bellaire in the state semifinals next Saturday. Bellaire defeated Owendale-Gagetown, 48-0, on Saturday. The Eagles beat the Rockets in the regular season finale, 28-16, two weeks ago. WCHT-AM (600) and rrnsports.com will provide live coverage of next Saturday's game, starting at 1:45 p.m.

Click the thumbnails in the "ARTICLE HIGHLIGHTS" box above to see pictures from the game. You can hear radio highlights, and interviews with Eli Orth, Riley Pajnich, Hayden Hardick, and Geno Constantino.