HOME OPENERS: Bay Ladies Blast Samsons Twice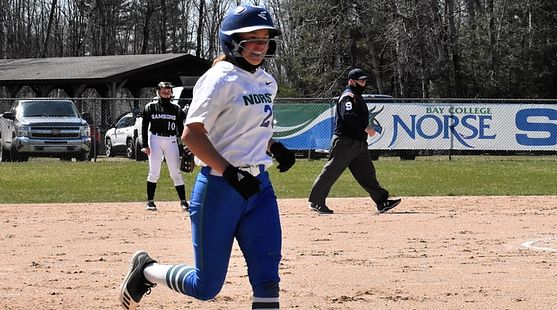 Click the thumbnails to see photos and videos taken by Brad Landis. Also hear post-game comments from Korey Kaukola and Coach Heidi Charon.

ESCANABA---The Bay College Norse softball team finally played on their home field Sunday after playing 26 games on the road and having other home games cancelled.

It was worth the wait, though, as the Norse swept a doubleheader from Gogebic Community College, 16-0 and 9-0, at the Wells Township Field.


The games were the first two for the Norse that will determine who will host the eastern half of the NJCAA Region 13 tournament. Bay still has four games with Dakota County (Minn.) after those games were cancelled this weekend, and two more with the Samsons.

"Gogebic has some things there that, at any moment, the game could change, and they held us there, for three or four innings in the second game," Norse Coach Heidi Charon said. "You never want to make any assumptions no matter how things are going. The girls didn't do that, they kept pushing. I would've liked a little more hitting early in the second game, but I'm not complaining."



In the first game, the Samsons managed only two base hits against Norse starting pitcher Karlie Patron. Bay scored three runs in the first inning and added eleven in the third inning before putting the game away with two more runs in the fourth inning.


Lexi Chaillier had two singles and a triple, scoring three times and driving in a run. Kaukola had the two-run homer and three-run triple...both in a bat-around third inning...and she scored three times.

Kaitlyn Hardwick and Sarah Wynn also added a pair of hits. Jenna Tardiff contributed a two-run homer in the fourth inning, and Riley Arndt added a pair of hits in the #8 hole.
Patron struck out six, walked one, and hit one batter in the shutout win.

In the second game, the Samsons (0-14) held it to a 1-0 game for three innings until the Norse scored twice in the third inning and then broke it open with six unearned runs (after a GCC error) in the fourth.

Chaillier had the highlight of that inning with an inside-the-park grand slam home run that clanked off the right field fence. She took off and when the GCC outfielder missed the cutoff man, came all the way around to score.

"I was going to send her whether they missed that cut or not," Charon said. "On a 50-50 play, she's likely to be safe. She's so fast and so strong that it's hard to get her out. It's hard to stop her."

Leadoff batter Bonnie Cartinas had a pair of doubles, scored one run, and drove in another. Kaukola added a two-run double and an RBI ground out, and she pitched a complete-game two-hitter in the circle.
"It was nice to feel a little relaxed," Charon said. "We don't get that very often with our tough schedule. It felt good. We've been playing good competition. So, today was nice."
Christen Green had base hits in both games for GCC, while Kelsie Wiezorek and Brittney Lonario had the others. GCC did not get a runner past first base in the second game, and had one runner reach third in the opener.

Green took the pitching loss for the Samsons in both of Sunday's games.

The Norse improved to 10-18 on the season and will play four games against Finlandia University next weekend. The two games on Friday will be in Hancock, with the second doubleheader set for Sunday in Escanaba. The Lions are 8-8 so far in their NCAA season.

"I expect tough competition," Charon said. "They're a four-year school. I'm pretty sure their strong pitcher from last year is back. She throws hard. But we beat them three out of the four times we played them (in 2019), so we're excited."

GCC will also play Finlandia in a twinbill this Wednesday, in Ironwood.