HISTORY MADE! Eskymos Win 1st-Ever Regional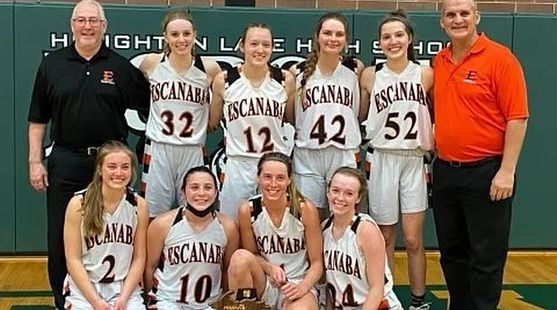 (Escanaba Athletics Photo)

HOUGHTON LAKE---A few years ago, there was an Esccanaba Little League team that won a regional championship and played in the World Series with only nine players.

They were nicknamed the "Iron Nine".

Well, meet the "Iron Eight".

The Escanaba High School girls basketball team made history Wednesday night by beating the Ludington Orioles, 53-35, in the MHSAA Division 2 regional championship game in Houghton Lake. That despite the fact that the Eskymos had just eight players available (iincluding JV call-ups) due to others being gone for Spring Break.

It was the first regional championship in school history for the Escanaba basketball program.

The Eskymos got off to a great start, taking a 19-11 lead after the first quarter. But they went cold in the second quarter, and did not make a basket, scoring just two free throws as the Orioles tied the game at halftime, 21-21.

The dry spell continued early in the third quarter and the Eskymos fell behind, 26-21. But the long ten-minute-plus drought ended when Bailey Barron hit an "and-one basket" and Carney Salo sank a triple to allow the Eskymos to regain the lead at 27-26.

The Eskymos clamped down on defense and found the offensive stroke to go ahead, 35-26, with a run that totaled 14-0 and spanned just over five minutes of playing time.

Escanaba gradually buiult the lead in the fourth quarter to win going away.

Nicole Kamin led the Eskymos with 16 points. Salo added 12 and Mari Bink chipped in nine.

Ludington finished its season with a 14-5 record.

Escanaba (14-4) will return to Houghyon Lake next Monday to play in its first state quarterfinal game in school history against the Portland Raiders (17-2). Portland beat Frankenmuth in its regional final Wednesday night, 53-49.