STILL DANCING! Eskymos Beat Sault In Regionals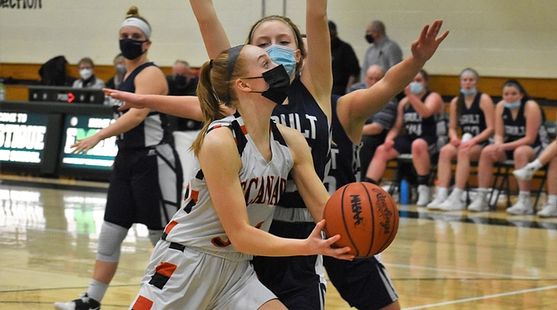 Click the thumbnails to see photos and videos, and hear comments from Carney Salo and Mari Bink.

MANISTIQUE---The Escanaba High School girls basketball team had five players score in double figures Monday night and the Eskymos advanced to the MHSAA Division Two regional championship game with a 78-68 win over Sault Ste. Marie.

The Eskymos shot the lights out from behind the long arch, nailing nine triples, as they took the lead early in the game and were never caught, despite having two of their eight available players foul out in the fourth quarter.


By that time, the Eskymos had built a 20-point lead, and even though the Blue Devils closed to within six in the final minute, the outcome was not in serious doubt.

The win avenged a regular season loss to the Blue Devils and sent the Eskymos packing for Lower Michigan in the regional championship game Wednesday night against Ludington. That game is scheduled to be played in Houghton Lake.

"I feel amazing," Eskymo sophomore Carney Salo said. "We're making Eskymo history, so it's awesome. They're a really good team but I think we really wanted it. We knew we had a small bench, so we thought, hey, wouldn't it be cool to make history with only eight players?"

"It was a great game," Eskymo sophomore Mari Bink said. "We just kept pushing the ball up the floor. We were just on tonight. Our shots were falling. It was amazing."

It was a fast=paced game as the Eskymos led, 24-16, after the first quarter. Maddy Monkevich scored seven points in that first quarter, Bink added six, and Salo five. Nicole Kamin had an end-to-end rush that ended the quarter with a bucket.

The Soo, however, has some great shooters. Jordyn Haller knocked down three triples in the second quarter alone and Claire Erickson scored eleven first half points as the Blue Devils closed to within 37-33. But Salo ended the first half with a three to make it 42-35.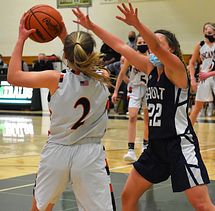 In the third quarter, it was all Eskymos. The Blue Devils managed only two baskets and three free throws, while the Eskymos put up 22 points in a 22-8 domination. Kamin scored seven of those points, including an emphatic "and one basket" while Bailey Barron, Monkevich, and Bink all nailed triples in the quarter, building a 64-43 lead.

The Eskymos had to hang on, however, as two girls fouled out and the Blue Devils resorted to numerous fouls. Escanaba made only two baskets in the final eight minutes, but made eight free throws to counter the ten points that Erickson scored in the quarter.

Escanaba had five players get on the scoreboard, and they all finished scoring in double figures. Salo had 19, Kamin 18, Bink 17, Barron 14, and Monkevich ten.

Erickson led the Blue Devils with 21 points. Haller had five triples and finished with 17. Lilli Kelgar added ten points as Sault High finished its season with a 14-2 record.

Escanaba (13-4) faces Ludington (14-4) in the regional championship game Wednesday night in Houghton Lake.