BR-H Pulls Away From Emeralds In Playoff Opener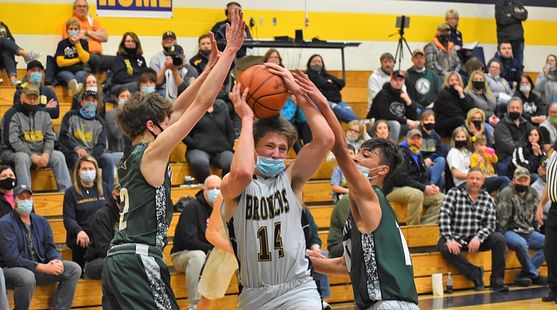 Click the thumbnails to see photos and videos, and click the AUDIO buttons to hear comments from Nick Javurek and Wyatt Gierke.

HARRIS---The Bark River-Harris Broncos got off to a slow start but eventually overwhelmed the Manistique Emeralds, 60-35, in the MHSAA Division Three district opener Tuesday night in Harris. The Broncos trailed early, 15-6, before taking the lead in the second quarter and gradually expanding that lead in the third and fourth quarters.

The game was tied at 22-22 in the second quatter before the Broncos scored seven straight points to end the half. The Emeralds closed to within 35-29 in the third quarter, but BR-H went on a 10-0 run to end the quarter, with Manistique turning it over multiple times.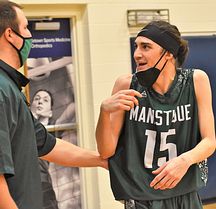 Bark River-Harris got 17 points from Nick Javurek and 16 points from Joey Stein.

"I would say that when we got into our press, and we started to ramp up the game defensive wise, that's kind of our strong suit," Javurek said. "Our offense is based on our defense and how good we can speed up the game. Coach said this game would be based on how much we hustled and that's pretty much all I can do is go out there, run around, and go for the ball when I can."

Manistique senior Wyatt Gierke says it was tough to end the season with a loss, but he hopes his team's efforts this season will lead to better things down the road for the program.

"It's really built my character for who I am, so it's nice to give those kids something to look forwarc fo and want, for the following years," he said. "We've got some talent coming up and it looks good, so we gave them the attitude of not giving up and going until the whistle sounds."

Sammy Warren had ten points and Nathan Deschow added nine for the Emeralds, who finish their season with a 4-10 record. BR-H improved to 16-1, but will be the underdog Thursday in the district semifinals on the road at Menominee (8-4).

"I know it's going to be a tough game," Javurek said. "I heard that they've got a couple of good guards. They like to pressure the ball. But I don't think it's anything that we can't handle. We play good as a team, whoch I think we can do, hopefully."

Tip-off is 7:00 ET, 6:00 CT. You can hear it live on WGMV-FM (Maverick 106.3) and on-line at www.radioresultsnetwork.com.