Eskymos Roll Past Marquette To Win District Title

Click the thumbnails to see photos and videos, and to hear comments from seniors Brodey Bevins and Kahler Geyer.

ESCANABA---The Escanaba High School wrestling team did not need the Luck of the Irish on St. Patrick's Day Wednesday as the Eskymos rolled past Marquette, 64-11, to win a Division Two district title. The Redmen came to town with nine wrestlers and managed one win on the mat, plus another on a forfeit as the Eskymos did not have a 215-pound wrestler.

The Eskymos, meanwhile, have seven seniors on their roster, and they're all hungry to keep wrestling all the way to the state finals...both individually and as a team.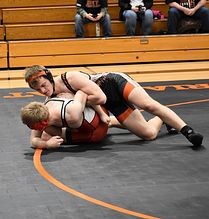 Brodey Bevins and Kahler Geyer led the way with pins at 152 and 171 pounds, respectively.

"I think we're really fortunate to get a season," Bevins said. "I'm glad we were able to get what we've got. We could've got nothing, so, I've been preparing all year for this. All my wrestling career, really. This is my last shot to get down to States, and I'm looking forward to getting down there and wrestling this year."

"It feels pretty good," Geyer said. "We get to advance one more time to regionals this year. It's our third time doing so. Things are a little bit more important this year. I'm trying to get to States for the last time (individually and as a tea). I've never been there and this is my final chance."

Jaxon Visneau, Trevor DeGrand, Adam Reimer, and Collin Arnt also got pins, while senior Tyler Lawson won on an 11-3 decision at 145 pounds.

Marquette's only win came at 140 pounds as Wyatt Kuhlman beat Escanaba's Brock Viau on a 17-1 decision that went down as a tech fall.