Mustangs Hand BR-H Broncos First Loss Of Season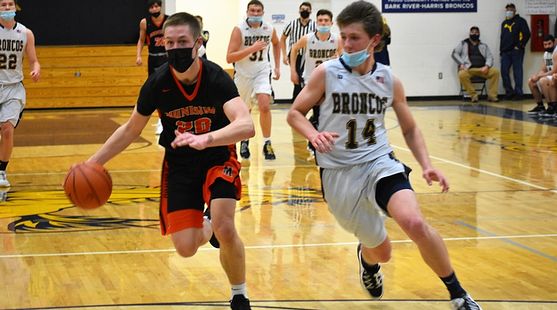 Click the thumbnails to see photos and video highlights, and post-game comments from Kane Nebel and Jesse Duran.

HARRIS---The Munising High School boys basketball team built an 18-point lead in the fourth quarter and held off the Bark River-Harris Broncos, 60-51, Tuesday night in Harris.

It was the first loss of the year for BR-H after 14 straight wins, while Munising improved to 13-1 with its only loss coming earlier this season to Rapid River.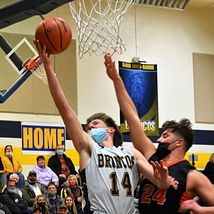 Kane Nebel scored 23 points to lead the Mustangs, including some big free throws to ice the game after the Broncos closed to within three points in the final minute.

"It was a tough win," Nebel said. "We definitely fought hard. We made our free throws at the end and took control of the ball. It was a good win."

Free throws, indeed, were a big factor, as the Broncos made just 8-of-24 foul shots while the Mutsangs made 12-of-16 from the foul line.

The Mustangs led for virtually the entire evening, racing to an 18-6 advantage against an Ice cold BR-H team after one quarter. It was 27-15 at halftime, before the Broncos made a bit of a run behind Trenton Wood-Keschick in the third quarter. He scored ten of the Broncos' 12 points that quarter, bringing BR-H to within six points at 33-27.

Munising, however, went on a 12-0 run, with back-to-back triples by Simon Brown and Nebel, and a breakaway pass from Nebel to Jesse Duran for a soft dunk.

The Mustangs led at that point, 45-27, but the Broncos chipped away at that lead in the fourth quarter. Nick Javurek hit a triple to bring BR-H to within 53-48, and then after the Mustangs split a pair of free throws, Wood-Keschick got inside for an "and-one" basket.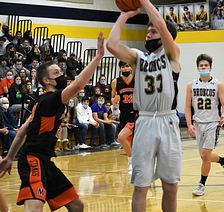 That cut the deficit to 54-51 with 50 seconds to play, but the Broncos did not score again, and Munising made six free throws, four of them by Nebel, to seal the win.

Wood-Keschick led the Broncos with 22 points and Javurek chipped in eleven.

Besides Nebel's 23 points, Sam Brown scored 19 for the Mustangs.

Duran, who fouled out early in the fourth quarter, scored eight points.

"It feels great," Duran said. "It was really a great team effort, actually. Kane did really good by saving us at the end with those free throws. It was all together, just teammwork. I fouled out early in the fourth quarter and that didn't help us with rebounds because they have a really big kid (Wood-Keschick) on their team. Honestly, I'be just got to play better defense. I've got to move more and use my feet more, and less with my hands."

"We just had to stay persistent at the end," Nebel said. "The free throws at the end were big. We've been pretty successful other than that one bump in the road (against Rapid River). We've been on a pretty good groove since then."

Munising (13-1) closes the regular season at home against Pickford Thursday.

Bark River-Harris (14-1) hosts Carney-Nadeau Wednesday night. Game time is 7:30 ET. Catch the broadcast on Eagle 107.3 FM and www.radioresultsnetwork.com.