STILL PERFECT: BR-H Hangs On To Beat Norway
Click the thumbnails to see photos and videos.

HARRIS---The Bark River-Harris Broncos boys basketball team stayed undefeated on the season with a 49-42 win over the Norway Knights Monday night in Bark River.

The Broncos built a 19-point lead early in the fourth quarter, then had to hang on down the stretch as the Knighs finally found their shooting stroke and the Broncos went cold. They also rushed themselves at a time when the clock was on their side in the final minutes.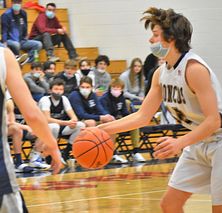 BR-H led the whole way, including 33-15 at halftime. A Joey Stein jumper with 6:24 left in the fourth quarter gave the Broncos a 42-23 lead, but the Knights stormed back.
A Gannon Bray lay-up cut it to 47-36, and then after two empty BR-H trips up the court, Nolan Amundson's jumper (after he had an "and one' basket earlier in the run) and a basket by Jeff Van Hollen made it 47-40 with 50.9 seconds left on the clock.

But a three-pointer seconds later was no good, and the Broncos put it away on a rebound basket by Trenton Wood-Keshick.

Keshick led the Broncos with 13 points. Nick Javurek added 11 and Stein contributed ten points. Carter Zawacki chipped in nine points, all in the first half.

The Broncos did enough to improve to 13-0 on the season, and they have another game Tuesday night at home against Crystal Falls Forest Park (2-6).
Norway fell to 7-5 on the season.