100 AND COUNTING: Racicot Reaches Milestone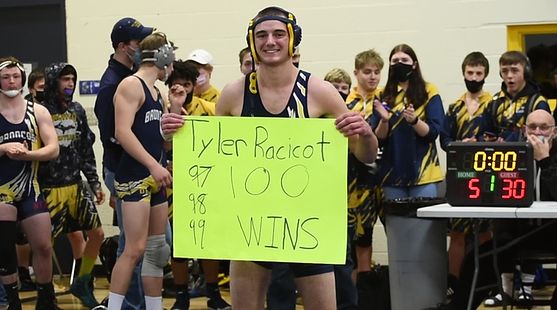 Click the thumbnails to see photos and videos, and click the AUDIO buttons to hear interviews.

HARRIS---The Bark River-Harris High School wrestling team won three more matches Monday night, highlighted by senior Tyler Racicot's 100th career match victory.

The Broncos beat Gwinn, Kingsford, and Manistique in a quad meet that also saw the Model Towners, Flivvers, and Emeralds wrestle against each other.


Bark River-Harris, which co-ops with North Central, has had a strong season, beating larger schools like Gladstone and Marquette, going toe-to-toe with wrestling powerhouse Escanaba.

Monday night was another dominating performance, with the Broncos getting multiple wins by pin. Racicot's 98th and 99th wins came on forfeits from undermanned Gwinn and Kingsford teams, but the 100th was accompished against Manistique's Tyler Greene as the Broncos beat the Emeralds, 71-11.

"It feels great," Racicot said. "I've always had decent technique, but my scrambling needed to get a little bit better. But working with the Raab (transfers Wyatt and Dillon) boys and Drew (fellow NCA student Allgeyer) a lot, it just helped my scrambling get better. It helped me to get to that next level and hopefully, I can make it to states."

Bark River-Harris Coach Joe Racicot, Tyler's father, was emotional.

"It's pretty exciting." the coach said. "It's unfortunate, in a way, that he had to get it with two forefeits, but at least the actual 100th was a good match. As a dad and a coach, it's emotional both ways because whether it's Tyler or not, every kid on this team, I treat as my own. But being Tyler, it's probably even more sweet to me. He has put in a lot of work."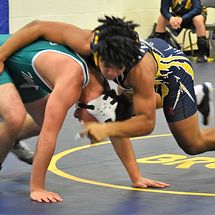 The aforementioned Raab boys both dominated their matches, with both registering pins in the first minute of the first period. Allgeyer, a state qualifiier a year ago, started slow in his first match before recovering for a pin.

Coach Racicot was also happy with his freshman, 152-pounder, Noah Gagne.

"He is an absolute animal," he said. "He is insanely quick, athletic, strong. He is an absolute pleasure to coach. He's probably my most respectful wrestler. He's that kid that I can absolutely count on to do whatever I ask him to do. He will try anything I tell him to try."

Manistique was able to fill most of its slots on Monday, giving the Broncos some needed matches, rather than a slew of walk-overs.

"We're pretty young this year," Manistique Coach Mat Gonzalez said. "We're just learning as we go almost. Especially for this year because we didn't have much of a pre-season to work on anything. We've got eight new guys who've never wrestled before. It's just experience-building for the future."

Manistique defeated Kingsford, 36-24.

The night belonged to Tyler Racicot. who relished the fact that there is even a season at all.

"It was kind of scary because we didn't know if there was going to be a season and it kind of went back and forth," Racicot said. "But we had that protest down there ("Let Them Play" rally in Lansing), that rally and the governor changed her mind, we got back in the room, worked really hard, and we've got a bunch of great guys and we're getting better every week."

Bark River-Harris and Manistique will both travel to Negaunee on Tuesday.