Kamin, Crow Steal Show In Classic Rivalry Contest

Click the thumbnails for photos and videos. Click the AUDIO buttons for comments from Kamin and both coaches.

ESCANABA---Nicole Kamin and Megan Crow are as about as close as friends as you will ever see. The two athletes have been playing with, and against (mostly against) each other for years, and they will soon play on the same team at Grand Valley State University.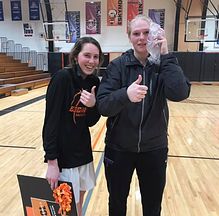 But Escanaba's Kamin and Gladstone's Crow had unfinished business Monday night as the two teams met in a Great Northern Conference battle. And as always seems to happen when Escanaba and Gladstone play each other, the game went down to the wire.'

Crow scored a career high 34 points and grabbed 15 rebounds for the Braves, but Kamin countered with 30 points and crossed the 1,000 mark for her Eskymo career as Escanaba held on to beat Gladstone, 64-63, in front of a family-only crowd at Escanaba High School.

The game was back-and-forth, withe neither team taking a lead bigger than seven points. Escanaba led, 21-20, after one quarter, and opened up a 36-31 lead at halftime. Kamin, needing 20 points to break 1,000, got an and-one basket on a driving layup early in the third quarter to get to 999. It took several possessions before she got fouled and went to the line, missing the first free throw, but making the second to reach her milestone.

Escanaba led, 43-36, but the Braves finished strong behind Crow, and the outside shooting of Claire Van Ginhoven. Gladstone finished the quarter on a 12-4 run to take a 48-47 lead.


Mari Bink and Carney Salo helped Kamin keep the Eskymos in front. Salo scored 15 points to back up Kamin's 30, and Escanaba seemed to have the game put away with a 64-57 lead with 21 seconds left on the clock. But Van Ginhoven nailed a three to cut it to four, and then the Eskymos turned it over when they stepped in bounds on the entry pass.

With five seconds left, Crow buried a three to cut it to 64-63. And then the Eskymos threw away the inbounds pass with Crow defending the pass from Maddy Monkevich.

Gladstone had the chance to win the game, but Crow, who had taken a hit to the jaw and was playing in pain, had no one to pass to and heaved up an airball to end the game.

Besides Crow's 34 points, Van Ginhoven had 21 points for Gladstone.