THREE-PEAT! Manistique Girls Win District Title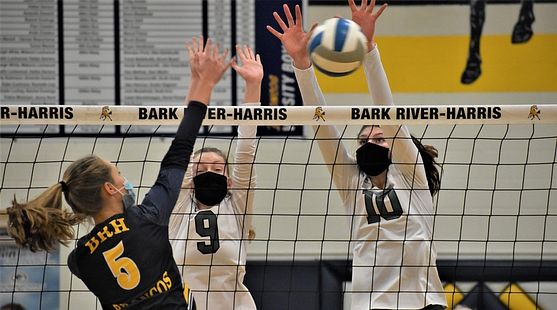 Click the thumbnails to see photos and videos, and hear interviews with Manistique Coach Amy Nixon and Emeralds senior Kayla Muth.

HARRIS---The Manistique High School volleyball team lost the first set of its district championship match Friday night at Bark River-Harris before roaring back to take the next three sets to win, 3-1. The scores were 19-25, 25-16, 25-18, and 25-19.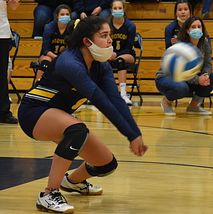 "We knew that Bark River was going to be a good competitve team," Manistique Coach Amy Nixon said. "So, we had to come in and bring our game tonight, and I think once we got it going. It's a little cat-and-mouse game with our rotation versus their's. matching up who we think are our best players lining up at the net to compete against their best players at the net."

And Nixon's middle blockers, senior Kayla Muth and freshman Ella Schuetter, were dominant at times, especially late in the match as the Emeralds took over the momentum.

"The last time we played, they beat us in the first set, too," Muth said. "I think it's because we get nervous, I don't know why, when we play this team. It just tends to happen. I feel pretty great. This is our third district in a row, and we have a lot of younger kids on the team. They really stepped up and they deserved it."

And now the Emeralds, in a pandemic year in which nothing has been guaranteed, will get to host a regional semifinal on their home court Tuesday night against Charlevoix.

"It's definitely diffuclt with the masks, but we've adapted pretty well, and like I said, our team is just really young and inexperienced, so it's kind of been a rocky ride," Muth said. "But we definitely deserve everything that we've just earned."

"We are just happy to get to play," Nixon said. "I remember back in the summer, when we were doing stuff outdoors with no net, no nothing. Just trying to touch a ball. And here we are, in a district final. It feels absolutely awesome."