BACK-TO-BACK: Escanaba Wins Volleyball District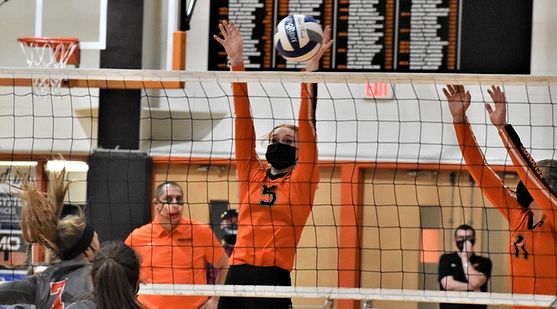 Click the thumbnails above to see photos and videos, and listen to interviews with Anna Smith, Maysie Lancour, and both coaches.

ESCANABA---The Escanaba Eskymos won their second straight volleyball district championship Thursday night, 3-0, over the Houghton Gremlins.

The scores were 25-20, 25-17, and 25-16.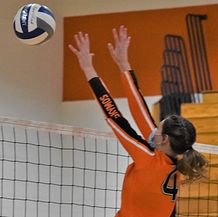 Escanaba fell behind by seven points in the first set but turned things around, and from that point, dominated the match. The Eskymos earned a match-up against either Kingsley or Cheboygan next Tuesday night in Sault Ste. Marie.

"These girls are so amazing," Escanaba Coach Adam Lambert said. "Back-to-back district champions. They wanted it so bad. You could tell the last week or two, they've really just been pushing themselves to be mentally strong, physically strong. That just showed again today."

The Escanaba girls had to play without two starters: Katelyn Stahlboerger and Carney Salo because of quaratine rules.

Senior Anna Smith says they won this title for them.

"They have been getting super-excited at home watching the livestream," Smith said. "I feel like everyone had to step up and take their poisitions have done amazing. I feel amazing. It's my senior year, and there's no better feeling."

Fellow senior Maysie Lancour, the team's libero, echoed that.


"I feel so happy," Lancour said. "It's my senior year and we just won back-to-back district champions. I'm so excited. It's been a hard season, but I love how we've just managed to get together as a team and still come out on top."

Lambert was especially happy with Smith's play on offense, as she complimented Nicole Kamin's usual offensive dominance with strong hitting of her own.

"Anna Smith was just crushing the ball today," Lambert said. "A lot of the heart was for the players who couldn't be here tonight and are quarantined. But luckily, next week, when we go to regionals, we're gonna have all of our players back."

"I wanted this really bad and I knew that I had to bring it," Smith said. "I felt really 'on' and amy timing was really on."

Houghton Coach John Christianson wrapped up his 31st season at the helm of Gremlins volleyball. He, in fact, coached the last Upper Peninsula championship team on Escanaba's court in 1998 before U.P. teams started to compete across all of Michigan. He says he's proud of his Gremlins for competing hard in this COVID-19 season.

"The girls keep me young. It's been a whole lot of fun," Christianson said. "This team, these girls, are so appreciative of the fact that they are getting to play. They saw what happened to their classmates and teammates back last spring and last winter. It's given them a special focus, a special something, that, hey, getting this opportunity, we've got to make the most of it. And so, it's been a really, really fun year. A wonderful group of young ladies."