ANOTHER TIGHT ONE: IMKN Boys Fall In Qtrs.

MAUSTON, Wis,---The Iron Mountain-Kingsford-Norway "UP Sluggerz" Under-19 baseball team lost another one-run game on Sunday in the Wisconsin Dells, falling to the HTP Raptors from Apple Valley, Minn., 3-2, in the quarterfinals.

The Raptors, who also beat IMKN in Saturday's pool play game, ended up winning the tournament championship by winning twice more after sending the U.P. boys home.


Sunday's game was almost a mirror of Saturday's losses: so close, but not able to make the big play at the key moment. The IMKN boys continued to have baserunning mistakes, and while the defense was fine, the Raptors (outside of their third baseman) were even better on D.

"We were in every game," IMKN Manager Paul Julian said. "We just made too many errors at times. It was a fun time though. And we have one more to go (Labor Day Weekend tournament at Liusa Field)."

On Sunday, the IMKN boys got the early jump as Caleb Evosovich led off with a single and eventually scored on a wild pitch.

It could have been an even bigger inning as Jesse Julian also got a base hit, but he was picked off of third base as he slipped on the artifical turf as he led off, and was tagged out. Blake Julian was hit by a pitch in that inning, but he was stranded.

Bryce Pietrantonio smoked one to right field as well, but it was caught by Hayden Mileski.

In the second inning, the baserunning problems continued as Nolan Amundson led off with a pop fly single to right field, but was thrown out trying to steal second on the first pitch. Gannon Bray got a single later that inning, but he was stranded there, keeping it a 1-0 game.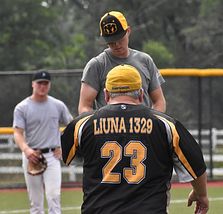 In the third inning, Evosovich led off with a walk, and rode home on a long double by Jesse Julian that bounced over the left field fence.

Later that inning, Hunter McCarthy was safe on an error, but he was stranded when Blake Julian was robbed of a hit in right field.

Johnson, pitching for a second straight day for IMKN, got the first two outs of the third inning before things went south. Ethan Lanthier singled and Mileski smacked a double.

With first base open, Will Arendt was intentionally walked to load the bases.

Jalen Kupitz followed with a line shot right at IMKN first baseman Kody Hendricks. He nearly caught it, but the ball bounced off his glove into foul territory. Hendricks collided with the umpire trying to get to the ball, and two runs scored, tying the game.

Then in the fifth inning, Lanthier smacked a long shot to the right field fence, and on this big field, he was able to run all the way around for an inside-the-park home run.

IMKN was unable to get the tying run, and in fact, did not have a base hit after the third inning, until Hendricks blooped a single into right field with two out in the seventh inning. Evosovich, trying to reach base for the fourth straight time, hit a sinking pop fly into right field that was chased down by second baseman Drew Jenkins, ending the game.

Johnson took the loss, throwing four-plus innings, allowing three runs on six hits, walking two, and fanning one. It was a gutsy perfromance, after he also pitched a complete game on Saturday.

Hendricks pitched the final two innings, yielding no runs on two hits.

Click the thumbnails in the ARTICLE HIGHLIGHTS box above to see photos and videos from Sunday's game.