BENCH PRESS! Forbes Paces Norse 2nd Half Run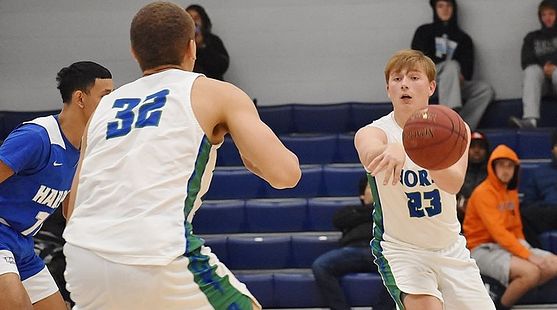 PALATINE, Ill.---When the going got tough, the bench players on the Bay College men's basketball team got going.

The Norse led from start to finish on Saturday against Harper College in suburban Chicago, but not before the Hawks closed to within 54-48 early in the second half.

That's when Norse Coach Matt Johnson, who had challenged his "first unit" to play harder a few moments earlier, went to the bench. And the lineup of Austin Forbes, Luke Mattson, Marcus Harris, Chris Dobessi, and Dondre Yohe responded.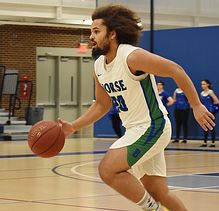 They scored ten straight points and went on a 13-3 spurt to build a 67-51 lead, and the Norse never looked back from there, in posting a 89-71 victory in Pallatine, Ill.

"Our bench was awesome,," Norse Coach Matt Johnson said. "They came through and made some big plays and did some really good things. They just brought a completely different energy than what that first group was bringing."

"Not to make excuses for them, but it was a totally different atmosphere compared to last night (in Milwaukee). Quiet gym, they just watched a lopsided womens' game. But I've said it before and I'll keep saying it, the strength of our team is our depth."

Forbes, the Gwinn High School graduate who has seen sparse playing time this season, took control off the offense by moving the ball up-court.

He scored all eight of his points in that two-minute span, including a pair of triples.

"I think my game's good, I just need to get confidence," said Forbes, who scored more than 1,000 points in high school at Gwinn. "Like, I go into the game, and I just shake, and I don't know what to do, and I don't want the ball. So, I've just got to play like I did in high school. I've talked with Coach Johnson a lot. He said that I can be useful, but it's on me to do that."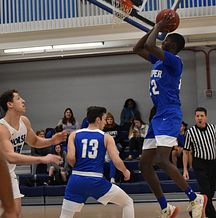 "I told him, 'Austin, you don't get to be a 1,000-point scorer by accident," Johnson said. "You put in the time, you put in all the work, and I have the absolute confidence in the world, but I can't put you out there unless you've got the confidence in yourself. It didn't help, either, that he came off the ACL surgery from last spring. He can contriubte, He can help, and he sure showed that today."

Harris, a Brimley High School graduate who also hasn't played much this season, battled at both ends of the court and also knocked down a triple.

Mattson, a second-year player from Negaunee who's a grind-it type player, did start the game Saturday, but he was in the "second unit" as the game went on. Mattson scored eight points in the game on four baskets in the paint.

Yohe, a second year player from Ishpeming, scored a pair of baskets. Munising's Cade Contreras also gave the team good minutes during that stretch.

"Luke Mattson is one of those kids that coaches absolutely love," Johnson said. "He gives you everything he's got. He'll accept any role you throw at him. He is an old school, blue collar, lunch-pail type kid. He does all of the dirty work. He showed that again tonight. When he's on the floor, good things happen."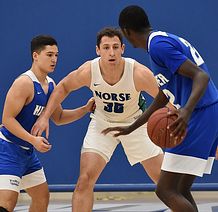 As the game went on, when he got back on the floor, Christian Alexander was dominant. He threw down a pair of two-handed slam dunks to go along with a slam he had in the first half (off of a nice bounce pass from Forbes).

Dobessi led the Norse with 15 points and Alexander added 14 points.

Tristan Masuga chipped in 12 points while Ryan Robinette scored nine points.

Keyondae Johnson led Harper (1-7) with 20 points, including four three-point baskets. Michael Nowakowski added13 points.

Bay College (4-3) heads home on Monday to face Alpena Community College. Game time is 7:30. It will be broadcast 0n Maverick 106.3 and radioresultsnetwork.com.

Click the thumbnails in the ARTICLE HIGHLIGHTS box above to see photos and videos, and hear comments from Johnson and Forbes.