NMU Losing Streak Reaches Seven In 28-10 Setback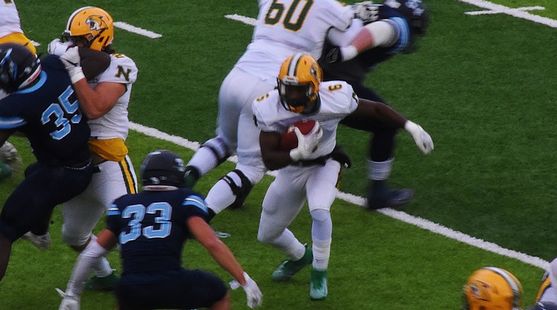 MIDLAND, Mich.---The Northern Michigan University football team lost its seventh straight game on Saturday, falling to Northwood University, 28-10, in downstate Midland. The result gave Northwood its first win of the season after the Timberwolves lost their first eight contests.

The game started well enough for the Wildcats as they put together a 54-yard-10-play drive that ended in a one-yard touchdown run by Tyshon King.


The Timnberwolves responded with a 69-yard, seven-play drive of their own that ended with a nine-yard Jalen Lewis touchdown run on the last play of the first quarter.

Northern regained the lead moments later on a 46-yard field goal by Daniel Riser. Who knew that would be the last time the Wildcats would score against a NU defense that had been in tough all season long.

"We drive down that first drive and look like the New England Patriots and after that, it looks like we don't even know how to play," NMU Offensive Coordinator Dan Fordrocy said. "It's definitely frustrating and discouraging in many ways. Just can't put your finger on what's going on offensively right now."

Cashual Goldsmith capped an 80-yard, 14-play drive with a ten-yard touchdown run to give the Timberwolves their first lead of the game at 14-10. The Wildcats had one more chance to score, but Riser's field goal attempt in the final seconds of the second quarter was off-target.

It looked like NMU was gaining momentum in the third quarter when Anthony Ladd sacked NU quarterback Nate Gomez for an 18-yard loss back to his own three yard-line. That forced a punt, which Ryan Knight returned deep into Northwood territory.


King broke off a tough run to the NU 18 yard-line, but the Wildcats were called for a personal foul penalty that knocked them back 15 yards.

Northern could not get another first down, forcing Riser to try a 52-yard field goal, which he left a little short and a tad to the left of the goalposts.

Opportunity missed.

"The game really took a dive for us at the beginning of the second half," NMU Head Coach Kyle Nystrom said. "We get a stop, we back them up, we get a big tackle for loss, we get a good punt return, we get a good first bpossession play, then we take a personal foul penalty. We talk about this all the time. We have some older players that just don't want to believe what I tell them, that we can't take these personal fouls and overcome them as a team."

Then Northwood, still leading 14-10, went on a 65-yard, eight-play drive, that saw Gomex connect with Christian Martinez for a 24-yard touchdown pass.

In the fourth quarter, with the rain pouring down, Goldsmith completed the game's scoring with a five-yard touchdown run.

King led NMU with 95 yards on 16 carries and their only touchdown.


Sebastian Toland had 32 yards on ten carries. Northern quarterback Ryan Johnson completed 8 of 18 passes for just 65 yards. Keshawn Howard replaced Johnson and completed one pass for six yards. He also ran for 46 yards.

Goldsmith had 86 yards rushing on 18 carries. Lewis had 51 yards on 13 touches. Gomez completed 10-of-18 passes for 176 yards and a touchdown.

Northwood did not have a turnover in the game. The Timberwolves had two fumbles, but recovered both of them.

NMU had one fumble and one interception.

Isaac Darkangelo led the Wildcat defense with 17 tacklers, eight of which were solo. He also had a sack and two tacklers for loss. Antonio Howard added 11 tackles (six solo) including one on special teams that forced Northwood to start inside its own ten yard-line.

Northern also had two dropped touchdown passes in the contest.

"We had two touchdowns and we dropped them, and you just can't do that," Fordocy said. "We missed two field goals. The defense gave us chances, but we're just not makibg enough plays offensively and expect to win games right now. It's frustrating."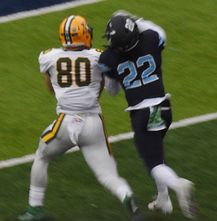 "We dropped some balls today and we need better quarterback play," Nystrom said. "You get beat deep (defensively) on a few deep balls here and there. But you've got to score points. I don't know if they've stopped anybody from scoring less than 30 points the whole year, and we score ten. So, that's where that game's at."

NMU returns home next Saturday for its final Superior Dome appearance of the season against Saginaw Valley State. Game time is 1:00.

Tune in on WUPT-FM (100.3 The Point), WCHT-AM (NewsTalk 600), and on-line at www.rrnsports.com.

Click the thumbnails in the ARTICLE HIGHLIGHTS box above to see photos and videos, and hear post-game comments from Head Coach Kyle Nystrom and Assistant Coach Dan Fodrocy. Also click the AUDIO buttons to hear player spotlight interviews with James Brown and Alex Hamilton.